Trustees get update on UD's Strategic Plan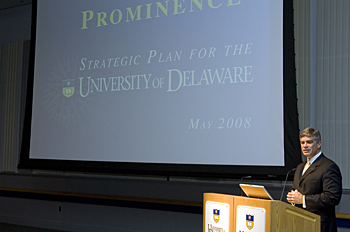 2:52 p.m., May 21, 2008--Building on the enthusiasm generated during the May 10 University of Delaware Forum, UD President Patrick T. Harker updated the Board of Trustees on the actions UD will take as it pursues its goal to gain national and international recognition as a premier public university.
Harker made his presentation on UD's Path to Prominence during the board's semiannual meeting, held Monday, May 19, in the Trabant University Center.
"I would like to give a little more texture and detail to the Strategic Plan, the outlines of which I made on May 10 at the UD Forum," Harker said. "I would also like to offer my thanks to the Strategic Planning Committee, all my colleagues, faculty and staff, who worked so hard on this."
As a result of this initiative, Harker said UD has undertaken or will undertake several actions on this Path to Prominence.
"I really do believe that the University stands at a critical milestone," Harker said. "We can't stand still. No organization can stand still in this very competitive world. At this moment, we really do perceive this path that we are setting out on to be exciting, and will set the University up for what I believe will be a very terrific future, not just in the years, but in the decades ahead."
Related stories
The plan, Harker said, is based on five guiding principles that include Delaware First, Diversity, Partnership, Engagement and Impact.
"We are the flagship of higher education for the state of Delaware, both by ensuring that every Delawarean has access to a top-quality education and by applying our strengths to help students be prepared for attending the University of Delaware, and also a financial commitment so that no Delawarean will be denied access to this University for financial reasons," Harker said.
He noted that UD already has started on Diversity. A Diversity Task Force was appointed in April to bring forth a number of concrete steps to improve diversity on campus. A plan is to be completed by December 2008.
The third guiding principle, Partnership, involves working together with industry, government and nonprofit organizations, and one important step, Harker said, is the appointment of David Weir as director of the new Office of Economic Innovation and Partnerships, opening July 1.
"This is an important step for us, because we are a large university. We want to make it easier for outside organizations and individuals to partner with us," Harker said. "We need to look at the strengths that we have, and how we bring those out to the state, the community and the region. We are very happy that David agreed to take on this new role."
The fourth principle, Engagement, "must involve students, staff and alumni in all the aspects of the University, and that we, in turn, are engaged in asking them to help us to achieve our aspirations," Harker said.
"Last, but not least, of the guiding principles is Impact. Our job is not done unless we get the ideas that are coming out of the University into the hands of the people who can use them, who can make a difference," Harker said. "We can't work with people who have an impact if they don't know about us. To this end, we have hired David Brond as associate vice president for external affairs."
Harker said that with the five guiding principles in place, UD has identified six strategic milestones that demonstrate the University's response to the major challenges it faces at home and in the world.
The six strategic milestones include:
Creating a diverse and stimulating undergraduate academic environment;
Becoming a premier research and graduate university;
Achieving excellence in professional education;
Advancing the Initiative for the Planet;
Extending UD's impact through the Global Initiative; and
Raising the commitment to be a more engaged university.
"We need to make sure that we are attractive to students from Delaware and that we continue to evolve a very broad and diverse student body, a student body that reflects the world so that our students can interact with each other and learn from each other," Harker said. "Maintaining a flexible curriculum that allows students to find their intellectual passion at the University also is important, something that includes creating a stimulating first-year environment and recruiting highly intelligent undergraduates across the board."
Beginning in the fall of 2009, the demonstrated financial need of every Delaware student admitted to the Newark campus will be met up to the full cost of tuition, fees, room and board and books, Harker said.
"We will not allow financial needs to turn Delaware residents away from the University of Delaware," Harker said. "This is a significant commitment on the part of the University, but one that we believe is very important."
Harker said UD is looking at a more flexible transfer policy, which it will implement in the fall of 2008, while seeking to increase financial aid and increase contributions to raise financial aid. An element of this increased financial aid would help students take study abroad courses or engage in undergraduate research.
"With regard to creating a stimulating first-year experience, we have already appointed a University-wide steering committee to develop a pilot program for a new and improved first-year experience to be implemented fall 2008," Harker said. "Our Honors Program also will be strengthened, based on the results of a full academic program review during the 2008-09 academic year."
To fulfill its goal of becoming a premier research and graduate university, Harker said that UD must develop faculty leadership in key intellectual areas and lead high-profile research initiatives.
"We need to provide full support for graduate students," Harker said. "We must also build an excellent research infrastructure and increase the profile and growth of UD graduate studies.
"My goal is to create three new faculty chairs...in the fields of alternative energy, the environment and health sciences," Harker said. "These are areas in which there is a critical need in our country, where the frontier ideas of science and policy are moving. These are significant areas, and we need to be players there."
Commitments to these goals include the appointment of Mark Barteau as senior vice provost for research and strategic initiatives, and Debra Hess Norris as vice provost for graduate and professional education, both effective July 1, Harker said.
In pursuit of excellence in professional education, Harker said UD will establish the University of Delaware Law Institute, create the University Health Initiative and launch an Educational Leadership Initiative. The University also will seek to strengthen education in business and corporate governance while achieving excellence in non-degree continuing education, Harker said.
"A University of Delaware Law Institute Task Force will be named July 2008, with the new institute to be launched in July 2009," Harker said. "On the University Health Initiative, we will have a new coordinated degree program in pharmacy established with Thomas Jefferson University, and the exploration of expanded program collaborations in public health, nursing and rehabilitation sciences. In the fall of 2008, UD, Thomas Jefferson University, Christiana Care and Nemours will announce an overarching agreement for the expansion of their partnership."
Additional action steps outlined by Harker include:
The initiation of a major redesign (including the hiring of faculty) of programs in the School of Education that prepare school leaders;
Increased support to the Weinberg Center for Corporate Governance targeted to expand its scholarly and professional impact and the opening of a student business incubator in the Lerner College of Business Economics during the 2008-09 academic year;
The establishment of a University-wide Institute for Environmental Research to be established in 2008-09.
"If you take the collective intellectual assets we have at this university, around environmental science and environmental policy, energy, science and technology, I would put us up against any university in America," Harker said. "These are clearly critical issues facing our state and our nation and the world. We have the advantage, and we need to strengthen that advantage so that not only we prosper, but we can make a significant difference in the problems that we face."
In support of the initiative to develop and demonstrate alternative technologies, Harker said UD would launch the Institute for Alternative Energy this fall.
"We need to help our young people move around the University and figure out what is available here at UD," Harker said. "We need to make it easier for them to figure out where they want to go, what courses they need to take, and what they can do after graduation."
The creation of a University-wide Institute for Global Studies, expected to be launched in July 2009, also will help provide students with increased opportunities to participate in study abroad and global studies, Harker said.
Goals in fashioning an engaged university include the new online community for alumni called "UDconnection," a commitment to strengthening public education in Delaware and beyond, partnership with the city of Newark and an increased University presence and engagement in Southern Delaware, Harker said.
"This includes a student life plan to be completed by October 2009, looking at the feasibility of a new University Center and the completion by October of an athletics and recreation plan," Harker said.
To succeed, Harker said, UD needs to develop a set of key capabilities that include staff excellence, outstanding facilities, a continually advancing infrastructure, exemplary management practices and leadership-level financial resources.
To achieve success on the Path to Prominence, Harker said, the University must strive for excellence and be willing to embrace change when needed to advance its mission and fulfill its goals.
"We have to question the way we do things today and ask if there is a better way to do it," Harker said. "Where we want to go as a university-to be counted as one of the great public universities in America-that is a great rise. That is exhilarating, and the only way to get there is to embrace change and to set the bar high."
Article by Jerry Rhodes
Photo by Kathy Atkinson