Relay for Life at UD raises $123,000 to fight cancer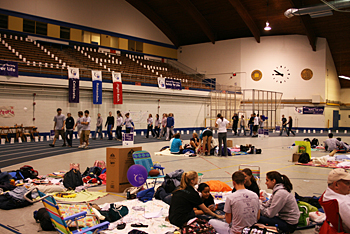 1:36 p.m., May 9, 2008--UD's seventh annual Relay for Life marathon, an all-night fundraiser, was held from 3 p.m., Saturday, May 3, through 6 a.m., Sunday, May 4, at the Delaware Field House. The event helps to support those who are battling cancer, remember those who have been lost to the disease and inspire others to continue the fight for a cure.
This year, more than 1,500 students, faculty, staff and family and community members registered for the event. Participants spent the night walking around the track, competing in games, listening to music and watching performances by various groups at UD.
"We all came together as a community to fight for the same cause," says Amanda Tomasetti, a junior English major and co-chair of UD's Relay for Life. "It is a true inspiration to see so many people who care about ridding the world of cancer."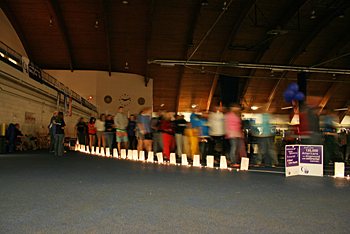 Awards were given to notable individuals and teams to recognize their outstanding fundraising efforts. Team 91.3 WVUD, representing UD's educational radio station, was recognized as the highest fundraising team, donating more than $11,500. Bill Russo, a junior from Exton, Pa., was honored as the highest individual fundraiser, contributing $10,000 to the cause.
Overall, Relay for Life has raised more than $123,000 for the American Cancer Society, which funds cancer research, early detection and prevention education, advocacy efforts and patient services for individuals and families affected by cancer.
"We are really happy that we can contribute this money to the American Cancer Society," says Meghan Woods, a UD junior and co-chair of the event. "The money we raised this year will touch thousands of lives."
Relay for Life teams are still accepting donations, and they hope to be able to donate a total of $175,000 this year. For more information or to contribute to the cause, visit [http://events.cancer.org/rflud].
Article by Nicolette Blubaugh
Photos by Will Jurkowski