Citation conferring an Honorary Doctor of Science degree on Stephanie Louise Kwolek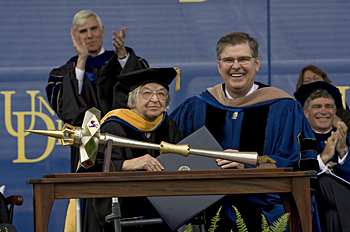 Celebrated inventor,
through your creative work in the field of liquid crystalline polymers and aramid fibers, you invented the technology that laid the foundation of the Kevlar¨ fiber used to make bulletproof vests, fire-safe suits for firefighters, and the protective helmets worn by U.S. service members. As a result, the lives of some 3000 police officers and countless soldiers, firefighters, and others have been saved. Kevlar fiber is five times stronger than steel, lighter than fiberglass, and resistant to wear, corrosion, cuts, fatigue, and flame. Its 200-plus applications also include fiber optic cables, asbestos replacement, mooring and suspension bridge cables, ropes, tires, shells for boats, airplanes, and spacecraft, and even skis and tennis racquets. Without doubt, we have all benefited in some way from your work.
Trailblazing female scientist, you earned a Bachelor of Science degree in chemistry in 1946 from Margaret Morrison Carnegie College, then the women's college of Carnegie Mellon University. At a time when technical fields had only recently opened up to women, you began working for the DuPont Company as a chemist in the textile fibers laboratory in Buffalo, New York. Six years later, you were transferred to DuPont's newly opened Pioneering Research Laboratory in Wilmington. As one of the few female research scientists at DuPont, you spearheaded polymer research in the Pioneering Lab until your retirement in 1986.
Innovative and respected chemist, your early research in low-temperature processes made possible the preparation of unmeltable or thermally unstable polymers, which formed the groundwork for Lycra¨ spandex fiber, Nomex¨, and Kevlar aramid fibers. During your career, you authored 30 publications and earned 16 U.S. patents on polymers, polycondensation processes, and liquid crystalline solutions, polymers, and fibers.
Your extensive and impressive list of honors includes the American Chemical Society Award for Creative Invention, the American Institute of Chemists Chemical Pioneer Award, the DuPont Lavoisier Medal for Technical Achievement, the American Innovator Award from the Patent and Trademark Office, the National Medal of Technology, and the Lemelson-MIT Lifetime Achievement Award.
You were the fourth woman inducted into the National Inventors Hall of Fame. You also have been inducted into the Engineering and Science Hall of Fame, the Plastics Hall of Fame, and the National Women's Hall of Fame.
Exceptional role model, you have credited your parents and teachers for introducing you to the joys of science and discovery. In turn, you have participated in numerous programs designed to introduce young children to science. The Nylon Rope Trick, from your 1959 paper co-authored with Paul W. Morgan, is one of the most cited and frequently demonstrated processes in classes across the nation. You have served as a mentor to women scientists throughout your career and since your retirement.
As American philosopher and education reformer John Dewey said, "Every great advance in science has issued from a new audacity of imagination." Your imagination and dedication to scientific research, Dr. Kwolek, have enriched our world and made it a safer place.
May 31, 2008
Photo by Kathy F. Atkinson