Excellence in Teaching and Advising Awards announced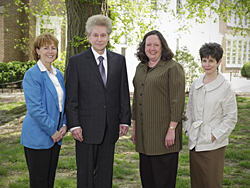 2:12 p.m., May 13, 2008--Five University of Delaware faculty members received awards in recognition of their outstanding work in teaching and advising during the Honors Day celebration on Friday, May 9. Two teaching assistants also received awards for excellence.
Excellence in Teaching Awards
Four faculty members won Excellence in Teaching Awards, which are based primarily on student evaluations. Each winner will receive $5,000, have his or her portrait hung in Morris Library for five years and have a brick, inscribed with his or her name, installed in UD's Mentor Circle.
This year's Excellence in Teaching Awards were presented to Kenneth C. Haas, professor of criminal justice; Carolee A. Polek, associate professor of nursing; Patricia Sloane-White, assistant professor of anthropology; and Julie K. Waterhouse, associate professor of nursing.
Kenneth C. Haas
Haas has a record for Excellence in Teaching and Advising Awards from UD. Early in his career when working on his master's degree at UD, Haas received the first Award for Excellence in Teaching for Graduate Students in 1970. This honor was followed by the Excellence in Teaching Award in 1979 and again in 1991, the Excellence in Advising Award in 1992 and another Excellence in Teaching Award this year.
A Delawarean, Haas received his bachelor's and master's degrees in political science from UD and his doctorate from Rutgers University. He began his teaching career as a member of the UD faculty in 1978.
His field of research is the death penalty and laws relating to it. Haas has edited seven books, published articles in major law reviews, social science journals and scholarly anthologies and his work has been cited by law review articles and the U.S. Supreme Court.
"Criminal justice is multi-disciplinary," Haas said. "Accordingly, my teaching emphasizes the many academic disciplines that inform our understanding of criminal behavior and individual, societal and governmental responses to it. My classes bring together theories, research and materials from virtually every academic discipline in the College of Arts and Sciences."
One of Haas's innovations is to play theme music before each lecture, such as Leadbelly's Birmingham Jail when he discusses Dr. Martin Luther King Jr. It not only sets the tone, but many students arrive early for class, Haas said.
Carolee A. Polek
An oncology nurse, Polek is a graduate of Pennsylvania State University and received her master's degree from the University of Pennsylvania and her doctorate from Temple University. She began teaching at UD in 1999 on contract and joined the UD faculty in 2001.
"I am a visual learner," Polek said, "and I use anecdotes and sometimes props in my teaching. My office is a pigsty, crammed with everything from model organs to a model my children made of the genetic helix with stuff from Home Depot."
For instance, Polek said, if she is teaching a class in ethics, she dons her Judge Judy apparel and gives students paddles that say "guilty" or "not guilty." When teaching about the T-cell and the immune system, she borrows camouflage equipment from ROTC and warns public safety she will be carrying a water pistol as she demonstrates the T-cell's function.
"I have quite a few adult learners in my classes, and this is not always their style, but I try to keep my students on their toes, and I have zero tolerance for unprofessional behavior," she said.
"The feedback from students, is 'firm but fair', and I am pleased with that," Polek said.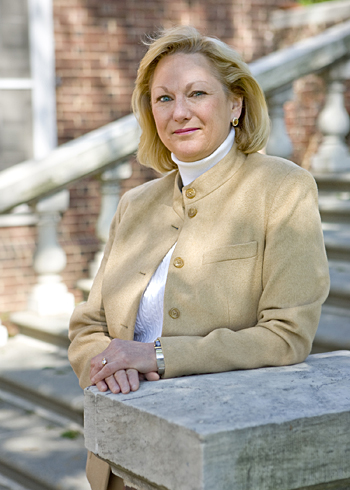 Patricia Sloane-White
Sloane-White, who joined the UD faculty in 2002, is a graduate of Amherst College and has a master's degree from Princeton University and a doctorate in social anthropology from the University of Oxford.
This past semester, using modern technology, she taught a combined class of UD students and students in Malaysia.
"My job as a professor of anthropology is to help students begin a journey of discovery about the world that can transform their lives forever," Sloane-White said.
"I research, study and teach about Asia and the different cultures of capitalism and try to work ideas about the culture of money, power and work into all my teaching," she said. "I find students to be deeply interested in what interests me as an anthropologist: the global reach of capitalism, economic culture and how culture and our economic lives intertwine."
Julie K. Waterhouse
Waterhouse received her bachelor's, master's and doctoral degrees from the University of Delaware and joined the faculty in 1978. Her doctorate is in measurement, statistics and evaluation, and her research has involved statistic evaluations of licensure exams for nursing, as well as medical-surgical nursing.
"I am a good teacher, but a rigorous teacher and a hard grader--one reason being that I am thinking of the patients my students will be caring for in the future," Waterhouse said. She teaches adult health nursing and the process of diseases from cause, to development to diagnosis.
"As a teacher, I make an effort to know everyone in my classes by name, " Waterhouse said, adding it is a challenge in classes with more than 100 students.
"Although I have been nominated for the Excellence in Teaching Award before, I was quite surprised to receive it. It is a lovely honor and I am very appreciative," Waterhouse said.
Excellence in Advising Award
One faculty member, Michelle Provost-Craig, associate professor in the Department of Health, Nutrition and Exercise Science, received UD's Excellence in Advising Award, an honor based on student evaluations. She will receive $2,500 and be honored with an inscribed brick in Mentor's Circle.
Michelle Provost-Craig
Provost-Craig joined the UD faculty in 1995. She received her bachelor's degree from the State University of New York at Cortland, her master's degree in physical education at UD and her doctorate in exercise physiology from the University of Maryland. Her research interests involve clinical exercise, bone health and activity and energy expenditure.
"In exercise physiology, the career goals of most of our students are graduate schools in physical therapy, occupational therapy, dentistry, medicine and allied health fields," Provost-Craig said.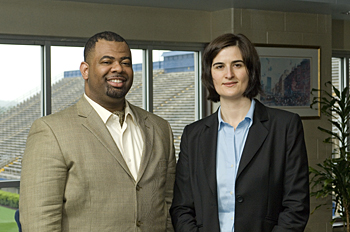 "I keep graduate school rankings on hand and advise students to aim high, medium and low in their applications, look over their application essays and write many letters of recommendation," she said. "I also help find internships and practicum courses and, when students are interested, try to facilitate their involvement in research programs."
Excellence in Teaching Awards for graduate students
Two graduate students, Michel Anthony Anderson and Stela Stefanova, will receive $1,500 for their work as teaching assistants.
Michel Anthony (Tony) Anderson
A graduate of Xavier University in Cincinnati, Anderson received his master's degree in education from Florida State University and is working to receive his doctorate in education from UD in 2009. He has been a graduate assistant, teaching assistant and instructor at UD since 2002, and has just received a dissertation writing fellowship from UD. His research involves hip-hop and the exploration of the educational possibilities of youth culture.
Anderson helped establish an after-school program for middle school students, and he said that he learned through that experience to engage students by learning what their passions were and using that as a leverage to help them succeed.
He is teaching a course on diversity at UD to secondary education students with the message to be open and sensitive to others and to be aware of differences in backgrounds and culture that can affect student performance.
Stela K. Stefanova
A graduate student in economics from Bulgaria, Stefanova is working to finish her doctorate at UD in 2009. She has a bachelor's degree in business from Sofia University, bachelor's degrees in information systems and economics from Idaho State University and a master's degree in economics from UD. She has had internships with the U.S. Department of Agriculture the past two summers and received a USDA research grant.
"My goal in teaching is to have students appreciate and develop economic thinking for the long term, not just for the class. I encourage active and collaborative learning, ask questions and ask them to provide examples and focus on current events." Stefanova said.
"When students share their thoughts on world events in a coherent and systematic way, I have a feeling of accomplishment. It is rewarding to know that I have left a lasting impression on students, but this goes both ways and I learn a lot from them," she said.
Article by Sue Moncure
Photos by Kathy Atkinson and Tyler Jacobson