Trustees hear Class of 2012 profile and faculty achievements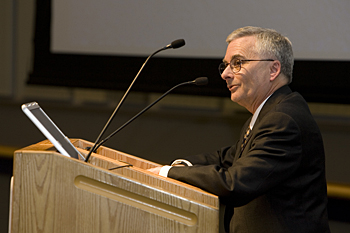 2:51 p.m., May 21, 2008--More than 25,000 individuals sought to become members of the University of Delaware's Class of 2012, and more than half of the applicants named UD as their first choice.
These and other facts concerning the freshman class for fall 2008 were presented by Lou Hirsh, director of admissions, to members of the UD Board of Trustees during the board's semiannual meeting, held Monday, May 19, in the Trabant University Center.
"As of this morning, 3,541 students have accepted our offer of admission to the Newark campus, and another 309 have accepted admission to the Associate in Arts program at our Georgetown, Dover and Wilmington Academic Centers," Hirsh said. "I am proud to report that nearly 600 members (17 percent) of the class is comprised of students of color."
In calling the applicant pool "the strongest in our history," Hirsh said that 900 of the freshmen coming to the Newark campus have verbal plus math SATs of 1300 or higher, compared to 775 last year.
Related stories
"Five years ago, there were only 633," Hirsh said. "In just one year, the average verbal plus math SATs of the entering class rose 20 points, from 1193 to 1213, and on the 'new' SAT they rose 32 points, from 1784 to 1816. This is the largest single one year increase in our history."
Hirsh noted that the number of freshmen with verbal plus math SATs of 1200 or higher increased by 300, while there were 300 fewer members of the Class of 2012 with SATs below 1200.
"Perhaps the best way I can communicate the change to you is to say that there has been an extraordinary shift upwards in the quality of students who have applied, in the quality of the students we admitted, and in the quality of the students who have accepted our offers of admission," Hirsh said. "This is a change that is likely to be felt in every UD classroom this fall."
The freshman class also brings with it an eagerness to begin their academic careers at UD, with more than two-thirds of those accepting admission having listed UD as their first choice, Hirsh said.
"All of these students have accepted their offers of admission and will be joining us this fall. They have placed their trust in us, and my staff and I are awed and humbled by them," Hirsh said. "We thank Provost Dan Rich and Assistant Provost Joe DiMartile for their unfailing support and encouragement during an admittedly arduous year. We also thank the Board of Trustees and President Harker for making Delaware such a great university that the remarkable students I have just described cannot wait to share the next four years of their lives and dreams with us."
Student and faculty academic recognition
In a presentation to the trustees, Rich cited the outstanding achievements of UD students and faculty, including the newest named professors and the recipient of the UD's highest teaching award, the Francis Alison Award.
"Jingguang Chen has been appointed the Claire D. LeClaire Professor of Chemical Engineering," Rich said. "He has been a faculty member at UD since 1998. The named professorship was endowed by the late Mr. Claire D. LeClaire, of Dover, in support of chemical engineering at UD."
Rich also announced the appointment of Joseph Pika as the James R. Soles Professor of Political Science and International Relations.
"The James R. Soles Professorship was endowed by his students and others he mentored and is to be awarded to a faculty member who exemplifies Jim's devotion to teach and encourage students in active citizenship and specific involvement," Rich said. "This made Joe Pika an easy choice."
Also recognized during his report to the trustees was Chin-Pao Huang, Donald C. Phillips Professor of Civil and Environmental Engineering, who is the recipient of the 2008 Francis Alison Award, the University's highest faculty honor.
"Whenever you start a conversation with C.P. Huang, the subject is sure to change to water, specifically to the use and reuse of water," Rich said. "Chin-Pao is passionate about the conservation of water, and he is known far and wide for his stewardship of aquatic resources."
Rich also highlighted the achievements of several other UD faculty, including:
Yan Jin, professor of environmental soil physics, and Pei Chiu, associate professor of civil and environmental engineering, for their work on technology to purify drinking water;
Ian Appelbaum, assistant professor of electrical and computer engineering; Takashi Buma, assistant professor of electrical and chemical engineering; Svilen Bobev, assistant professor of chemistry and biochemistry; Xiaoming Li, assistant professor of electrical and computer engineering; Fabrice Vernon, assistant professor of marine and Earth studies; and Millicent Sullivan, assistant professor of chemical engineering and Merck faculty fellow, all of whom have received NSF early career awards;
Matthew Oliver, assistant professor of marine and Earth studies, and Sylvain Cloutier, assistant professor of electrical and computer engineering, who also earned NASA and DARPA early career awards, respectively;
Excellence in Teaching Award recipients Carolle Polek, assistant professor of nursing; Patricia Sloane-White, assistant professor of anthropology; Kenneth Haas, professor of criminal justice; and Julie Waterhouse, associate professor or nursing;
Excellence in Teaching Awards for Graduate Students recipients Michael Anderson, a doctoral student in education; and Stela Stefanova, a doctoral student in economics; and
Michelle Provost-Craig, associate professor of health, nutrition and exercise sciences, who received the Excellence in Undergraduate Advising and Mentoring Award.
Rich also noted several administrative changes:
Michael Gamel-McCormick, professor of individual and family studies, interim chairperson of the Department of Individual and Family Studies and director of the Center for Disabilities Studies, will become interim dean of the College of Human Services, Education and Public Policy (CHEP), effective July 1, replacing Timothy K. Barnekov, who is retiring at the end of the current academic year;
Michael Chajes, who has served as interim dean of the College of Engineering since October, has been named dean of the college, effecitve July 1, after a national search;
Carolyn Thoroughgood, vice provost for research and graduate students, will become special assistant to the provost on July 1; and
Carl Jacobson will serve as interim vice president for information technologies, effective July 1, replacing Susan Foster, who is retiring.
Rich also recognized the accomplishments of five students. Three UD students have been awarded 2008-09 academic year scholarships by the Barry M. Goldwater Scholarship and Excellence in Education Foundation, Rich said. They are Ritika Samant, a junior biological sciences major and political science minor from Hockessin, Del.; Spencer Tofts, a junior mathematics major from Newark, Del.; and Jeffrey Bosco, a junior chemical engineering major with minors in chemistry, mathematics and Japanese language, from Wilmington, Del.
Zachary Bachrach Schafer and Carol Anne Cipriani, are the recipients of the Taylor and Warner Awards, as the outstanding man and woman of the senior class. The awards are given annually by the UD Alumni Association.
Article by Jerry Rhodes
Photo by Kathy Atkinson