Employee gifts can smooth UD's Path to Prominence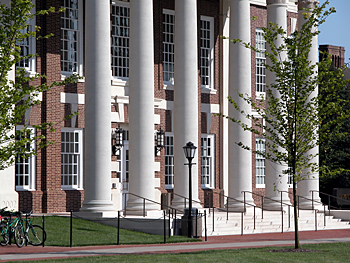 3:39 p.m., May 27, 2008--In keeping with the spirit of UD President Patrick Harker's recently released state of the University address outlining the plan for UD to proceed on its Path to Prominence, UD's employee annual fund campaign for fiscal year 2009, which officially launches today, May 27, is shooting for the highest participation rate ever.
Last year, 17 percent of UD faculty and staff participated, and as Harker continues to work on shaping UD into a pre-eminent international public institution, employee support is especially timely.
"Gifts from employees send a message of strong support to students, alumni, friends and parents that we believe in the University and its mission," said David R. Morris, assistant director of UD's Office of Annual Giving. "The University of Delaware would not be where it is today without the support of our faculty and staff."
An message is being sent to all UD employees to mark the campaign's kick off, and contributions can be made by check, credit card or payroll deduction by going to [https://chico.nss.udel.edu/gift/employee/makegift].
All contributing employees can specify what program or programs they wish to support or make unrestricted gifts.
For more information, call the Office of Annual Giving at (302) 831-2104 or e-mail [annualgiving@udel.edu].