Delaware's Beverley signs with Washington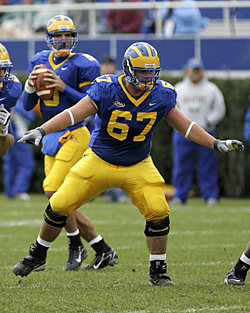 8:27 a.m., May 5, 2008--University of Delaware standout Rich Beverley, who helped anchor the offensive line as a three-year starter, has signed a free agent contract with the National Football League's Washington Redskins.
Beverley is the fourth member of the 2007 Fightin' Blue Hens squad picked up by an NFL team. Quarterback Joe Flacco was the first round pick of the Baltimore Ravens in the draft last week while running back Omar Cuff signed a free agent contract with the Tennessee Titans and offensive lineman Mike Byrne signed a free agent contract with the Miami Dolphinsy.
Beverley earned third team All-Colonial Athletic Association honors in the fall as he led the Blue Hens to a record of 11-4 and a spot in the NCAA Division I Football Championship Subdivision title game. Delaware also captured the Lambert Cup and was named the Eastern College Athletic Conference team of the year.
Beverley, a biological sciences major with a minor in history, was a four-year starter at Delaware and ended his career having played in 50 games with 40 starts. He started each of the final 37 games of his career.
During the 2007 season, Beverley helped lead an offensive line unit that paved the way for All-Americans Cuff and Flacco. Delaware was among the national leaders and led the CAA in scoring offense (36.2, 11th in NCAA), passing offense (289.5), and total offense (460.6).
For more information on UD athletics, see [www.udel.edu/sportsinfo].