UD signs agreement with Indian engineering institute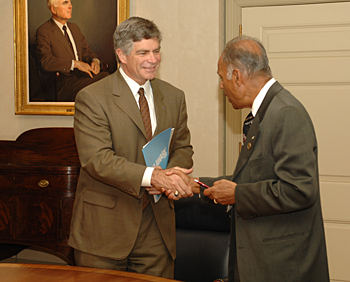 2:47 p.m., May 1, 2008--In conjunction with its goal of developing strategic and active global partnerships as outlined in its Strategic Planning Initiative, the University of Delaware has signed an agreement with the BTL Institute of Technology in Bangalore, India, to foster the exchange of students, faculty and joint research efforts.
The agreement was signed on April 23 in Hullihen Hall by UD President Patrick Harker and Bangalore T. Lakshman, a UD alumnus and the founder and chairman of the BTL Foundation for International Services (USA) and the BTL Educational Trust for Rural Development (India).
The foundations are responsible for the establishment of primary, middle school, high school, pre-university and college of engineering educational institutions in India.
Established in 1997 to provide degrees in engineering, the BTL Institute of Technology has four branches of study, including computer science and engineering, electronics and communication engineering, information science and engineering and mechanical engineering. The institute also offers a variety of additional programs, including nursing and teacher education.
"Bangalore is a loyal son of UD, and we are proud of what he has accomplished," Harker said. "The agreement includes a variety of initiatives that should be beneficial to both institutions. We are looking forward to enhancing the relationship that has been developing between our two institutions."
Lakshman, who earned a master's in civil engineering from UD in 1971, worked at Artesian Water Co., of Newark, as a chief engineer for 22 years. He is a former president of the Delaware Engineering Society and a past director of the National Society of Professional Engineers. A recipient of UD's Distinguished Alumni of the Year in 1992, Lakshman was Delaware Engineer of the Year in 1993 and received the State Award for Distinguished Service Award from Karnataka State, India, in 1988.
Havidán Rodríguez, vice provost for academic affairs and international programs at UD, said that the agreement between UD and the BTL Institute of Technology represents a series of productive discussions between the two institutions.
"The agreement includes the potential for student and faculty exchanges, study abroad opportunities and research and scholarly collaborations across a number of academic areas," Rodríguez said. "One of the goals of the BTL Educational Trust for Rural Development is to serve the rural and poor populations in the region. The BTL Institute of Technology and Management is located in Bangalore, which is commonly referred to as the Silicon Valley of India, so the potential for partnerships with industry, government agencies and other organizations is excellent."
Michael Chajes, interim dean of the College of Engineering, said that the college is very interested in expanding its collaborations with international institutions, including the BTL Institute of Technology and Management.
"We are very excited about the formation of this partnership with the BTL Institute of Technology, whose founder, Bangalore T. Lakshman, is a UD alum," Chajes said. "I am sure that the relationship will provide our students and faculty with some very unique opportunities."
Article by Jerry Rhodes
Photo by Kathy Atkinson