Federal Reserve Bank president to join UD as distinguished scholar in residence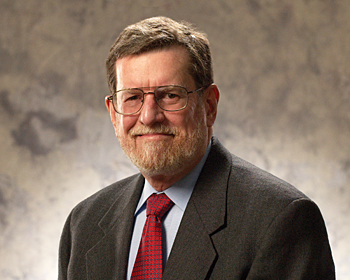 3:42 p.m., March 25, 2008--William Poole, president of the Federal Reserve Bank of St. Louis, has been appointed distinguished scholar in residence at the University of Delaware, Conrado (Bobby) M. Gempesaw, dean of the Lerner College of Business and Economics, has announced.
"We are very pleased that Bill Poole has decided to join the Lerner College of Business and Economics as a distinguished scholar in residence in the Department of Economics," Gempesaw said. "He has been one of the more prominent and influential voices in setting our nation's monetary policies during the past decade. Our students and faculty are very fortunate to be given the opportunity to interact with Bill Poole."
Poole, who will retire at the end of this month from the Federal Reserve after serving 10 years as St. Louis Fed president, will join the UD faculty in fall 2008.
The Federal Reserve Bank of St. Louis, one of 12 regional Reserve Banks, serves the Eighth Federal Reserve District. The regional Reserve Banks, along with the Board of Governors in Washington, D.C., constitute the Federal Reserve System. As the nation's central bank, the Fed is responsible for conducting monetary policy, supervising banks and operating the nation's payments mechanism. Poole directs the activities of the bank's head office in St. Louis, as well as its three branches in Little Rock, Ark., Louisville, Ky., and Memphis, Tenn.
"Bill Poole brings an amazing blend of academic and policy experience to our program," said Saul Hoffman, professor and chairperson of UD's Department of Economics. "He spent a decade as one of the most influential policy makers in the entire Federal Reserve System as President of the St. Louis Fed. We look forward to having him work with our students across the curriculum and our faculty. He is full of ideas, energy and enthusiasm."
Eleanor Craig, associate chairperson and associate professor of economics, said Poole is an excellent speaker who has lectured at UD several times, including delivering the Hutchinson Lecture in 1999. The annual lecture, which features a prominent economist who specializes in money and banking, was established in 1990 in recognition of the distinguished career of the late Harry D. Hutchinson, professor emeritus of economics who retired in 1989 after 30 years at UD.
"One of the things he's well known for as a member of the Federal Open Market Committee is promoting transparency of Federal Reserve actions," Craig said. "He feels that if the public understands what the Fed's actions are and why those steps were taken, that the economy and financial markets can react with more knowledge about the actual state of the business cycle and respond appropriately."
Poole, who was born in Wilmington, Del., lived in Alapocas, Del. and graduated from Wilmington Friends School. He received a bachelor's degree from Swarthmore College and an MBA and doctorate in economics from the University of Chicago. He was awarded a doctor of laws degree by Swarthmore in 1989.
Poole began his career at the Board of Governors of the Federal Reserve System in 1964 and worked as a senior economist there from 1969-74. In 1974, he joined the faculty at Brown University, twice served as chairman of the economics department and for five years directed the university's Center for the Study of Financial Markets and Institutions.
Poole was the Herbert H. Goldberger Professor of Economics at Brown when he joined the Federal Reserve Bank of St. Louis in March 1998 as the 11th chief executive of the Eighth District Federal Reserve Bank at St. Louis.
Poole has served as a visiting scholar and an adviser at many institutions. From 1970-90, he was a member of, and became senior adviser to, the Brookings Panel on Economic Activity, and from 1982-85, he was a member of the Council of Economic Advisers in the first Reagan Administration. Before becoming president of the St. Louis Fed, he was a member of the Academic Advisory Panels of the Federal Reserve Banks of New York and Boston.
From 1985 until his appointment to the St. Louis Bank, Poole was an adjunct scholar at the Cato Institute and a member of the Shadow Open Market Committee. From 1989-95, he served on the Congressional Budget Office Panel of Economic Advisers. In addition, he has been an adviser and consultant to the Federal Reserve Bank of Boston, a visiting scholar at the Federal Reserve Bank of San Francisco and a visiting economist at the Reserve Bank of Australia.
Poole wrote Money and the Economy: A Monetarist View, published in 1978, as well as many scholarly papers in professional journals. He was coauthor of Principles of Economics, published in 1991.
Poole was a member of the Webster University Board of Trustees from 1999 to 2007, a director of United Way of Greater St. Louis from 1999 to 2006 and a member of the Chancellor's Council of the University of Missouri-St. Louis from 1999 to 2003.
An avid cyclist and sailor, Poole is married to Geraldine S. Poole; they have four sons.