National Academy elects Delaware's David Mills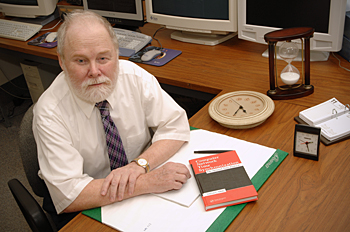 10:56 a.m., March 14, 2008--A University of Delaware professor noted for his pioneering and continuing work with the Internet has been elected to the prestigious National Academy of Engineering (NAE). David L. Mills, professor of electrical and computer engineering, is among the NAE's 65 new U.S. members and nine foreign associates.
Academy membership is among the highest professional distinctions accorded to an engineer, honoring those who have made outstanding contributions to engineering research, practice or education. It recognizes scientists who have been pioneers in new and developing fields of technology, made major advancements in traditional fields of engineering or developed innovative approaches to engineering education.
In the last four years, three UD College of Engineering faculty members have been elected to the NAE, putting the University and the college in elite company. Just five schools, including the Massachusetts Institute of Technology, have had at least one faculty member elected in each of the last four years and only nine, including UD, Princeton University, the University of Michigan and the University of Texas, have had three faculty members elected over the four-year span.
UD's Dominic Di Toro, Edward C. Davis Professor of Civil and Environmental Engineering, was elected in 2005 for leadership in the development and application of mathematical models for establishing water-quality criteria, and Mark Barteau, Robert L. Pigford Chair in Chemical Engineering, was elected in 2006 for advancing the fundamental understanding of surface chemical-reaction mechanisms and for the design and invention of new catalysts. This year, Mills joins them in the National Academy.
"This national recognition for David Mills is richly deserved and all the more significant because it is a highly coveted honor that is conferred only through election by the members of the National Academy of Engineering," UD Provost Dan Rich said. "He is an internationally respected scholar in Internet technology and his exceptional work in UD's Department of Electrical and Computer Engineering has further enhanced that program's proud distinction of being among the finest in the world."
"I am very pleased that David Mills has won this recognition," Michael Chajes, interim dean of the UD College of Engineering, said. "He is one of the leaders in his field and is extremely deserving of election to the National Academy of Engineering. His leadership and scholarship through the years have been very important to the College of Engineering."
"Being elected to the NAE was both a surprise and a pleasure," Mills, who has been working with the Internet and the Network Time Protocol since its inception, said.
The Network Time Protocol was developed by Mills, whose work in Internet technology development and protocol engineering began in 1977, to provide synchronization for the clocks of computer systems in networks. It is one of the oldest Internet protocols still in use.
Working with a team of volunteers, Mills still maintains the Network Time Protocol and in 2006 he literally wrote the book on the subject with Computer Network Time Synchronization: The Network Time Protocol published by CRC Press.
The protocol enables precise time synchronization, without which online experiments could not be accurately measured and controlled, stock market buy and sell orders could not be timed and Web streaming of video would be chaotic. The protocol makes possible such online activities as aviation traffic control and monitoring, radio and TV programming launch and control, multimedia synchronization for real-time teleconferencing and traffic engineering.
Mills was among a group of researchers who helped build the Internet, with which he has been associated for the network's entire life. He recalls the U.S. Defense Advance Research Projects Agency (DARPA) providing the early engineers an expensive "playpen" in which to create something completely new.
"The strangest thing about the whole process is that we were inventing e-mail, file transfer protocols and remote interactive access, using the very infrastructure that we were developing," Mills says. "In other words, we were building the infrastructure so that we could build the infrastructure. I learned the most important lesson of my life from this experience--that people who are actually going to use services should be the ones to build them."
Mills served as chairman of the Internet Architecture Task Force for many years and also was a member of the Internet Activities Board. He has watched the history of the Internet unfold, and said with pride, "The fundamental protocols have not changed. What's more, they still work."
The Network Time Protocol algorithms have been tweaked over time, providing more accurate time, but the underlying fundamentals remain the same.
Mills, having mastered time on Earth, said his new interest is keeping time in space, noting that "time keeping and celestial navigation are intertwined." He would like the opportunity to make the Network Time Protocol work on distant Mars.
Mills' research interests include computer internetworking systems, security architectures and cryptographic protocols, and through the years his research has received funding from the National Science Foundation, DARPA, the U.S. Navy, the U.S. Army and NASA's Jet Propulsion Laboratory.
He is a member of the Institute of Electrical and Electronics Engineers and the Association for Computing Machinery and a Fellow in both societies.
Mills received bachelor's degrees in engineering science and engineering mathematics, master's degree in electrical engineering and communication sciences and a doctorate in computer and communication sciences, all from the University of Michigan. He joined the UD faculty in 1986.
Article by Neil Thomas
Photo by Kathy Atkinson