Paying for an aging infrastructure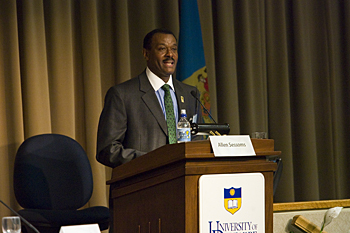 7:05 p.m., March 26, 2008--If Delawareans want clean drinking water, greener cities, trash removal, drivable roads and safe bridges in the future, there needs to be a willingness to pay higher taxes and to accommodate growth and redevelopment.
That was the conclusion of a panel of government officials, planners and scholars examining the state's infrastructure needs at Tuesday's "Creating a Livable Delaware: Pathways for Enhancing Prosperity and Quality of Life" conference at UD's Clayton Hall.
Allen Sessoms, president of Delaware State University, moderated the five-member panel on how to maintain, expand and update an infrastructure built in the middle of the 20th century.
"Delaware is a great place to live and work, but are we killing the goose that laid the golden egg," Sessoms asked. In order for Delawareans to stay healthy, both physically and economically, the state's infrastructure must meet future needs, he said.
Those needs, said panelist Sue McNeil, UD professor of environmental engineering, are things like turning on the faucet and getting clear, clean, odorless drinking water; having enough water pressure to put out a fire; being able to take a shower or flush a toilet; having garbage and waste removed with little inconvenience and taken somewhere that won't destroy the drinking water or ecosystems.
When it rains, McNeil said, people want storm water to disappear and not cause flooding. They also want roads to be safe and drivable, and to have wonderful parks and recreational activities, public transportation and sidewalks.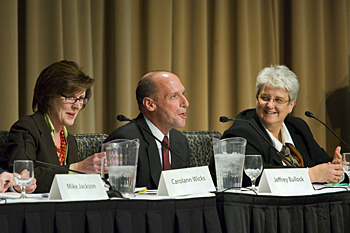 The state's infrastructure is between 40 and 60 years old, McNeil said, and is reaching the end of its life cycle. Residents are experiencing traffic congestion, landfills are reaching capacity, bridges and roads are in need of repair or rebuilding and new growth in southern Delaware needs to be accommodated, all at the same time there is a growing reluctance on the part of the public to approve new systems.
"We have the NIMBYs (not in my backyard); the NIABYs (not in anyone's back yard); the NOTEs, (not over there either); the NOPEs, (not on planet Earth); the BANANAs (build absolutely nothing anywhere near anything); and the LULUs, (locally unwanted land users)," O'Neill said.
Jeff Bullock, chief administrative officer of New Castle County, said there is only one way to pay for these necessities, and that is to raise taxes. With skyrocketing gasoline prices, "You could raise gas taxes 10 to 15 cents, and nobody would even know you did it," Bullock said.
For example, he said, the county is upgrading and building new sewer systems and itaccomplished that by raising sewer taxes 50 percent in the last few years.
"Delaware is a great deal when it comes to taxes," Bullock said. "We are a bargain. Property taxes in New Castle County are a third of what you'll pay across the river, and we provide pretty good services for that money," he said. His advice was to trust that the people of Delaware know a good thing when they see it, and urged officials to "make your case, raise your taxes and build your sewers and roads."
Carolann Wicks, secretary of the Delaware Department of Transportation (DelDot), gave an overview of DelDot's achievements, but warned that the retirement of so many Delawareans brings a greater need for more types of transportation at a time when the state is struggling with funding.
Mike Jackson, director of the state Office of Management and Budget, said the infrastructure is more than roads, schools and buildings. It's also operational expenses, including human and health services that increasingly need to be extended to new growth areas in southern Delaware.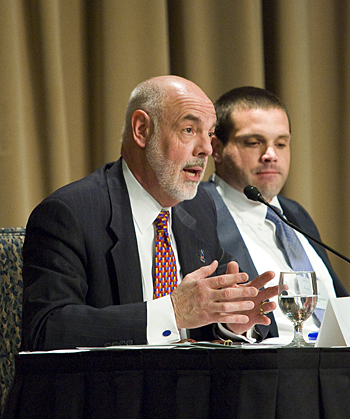 He said some of the things the state has considered, especially in a time of declining revenues, is the privatization of public services, lease-purchase of facilities from private developers and more dedicated sources of revenues.
Jeff Bross, president and chairperson of Duffield Associates, said Delawareans face some real challenges and that political courage starts with voters. He said the state requires increased and new models for infrastructure financing, more rapid approval of public projects, and "if we really want the quality of life and to solve these problems, we have to have the courage."
Panelists concluded that everyone concerned with the future of Delaware's infrastructure must open a dialogue with the people of Delaware, clearly explain what the state's needs are and ask for the means to meet those needs.

Article by Barbara Garrison
Photos by Kevin Quinlan