Panel offers proposals for enhancing Delaware's heritage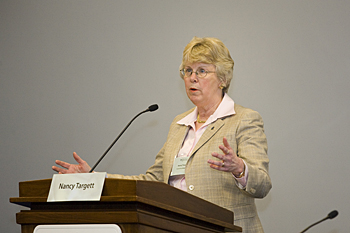 6:57 p.m., March 26, 2008--As part of the "Creating a Livable Delaware: Pathways for Enhancing Prosperity and Quality of Life" conference held Tuesday, March 25, at the University of Delaware, six panelists outlined various and distinct ways to enhance Delaware's historical heritage.
Their proposals included rescuing rapidly disappearing 18th-century buildings in small towns, documenting the state's early shipbuilding and fur trading history, maintaining the arts as a catalyst for revitalization and seeking an overarching regulatory commitment by the state.
Participants included David Ames, director of UD's Center for Historic Architecture and Design; Ed Kee, a long-time Cooperative Extension specialist who is now employed by Hanover Foods; Dennis Forney, publisher of the Cape Gazette and chairperson of the Greater Lewes Foundation; Laura Scanlan, former director of the Delaware Division of the Arts; and Constance Holland, director of the Office of State Planning Coordination.
As moderator of the panel, Nancy Targett, dean of the College of Marine and Earth Studies, said the responsibility of Delaware citizens is to be good stewards and explore the choices available to the state. "Which elements are most crucial to pursue?" she asked. "What are the successful strategies we could use to preserve land and still enhance economic prosperity? What about tomorrow's heritage?"
Ames took the first look at Delaware's cultural heritage, noting that though the state is small, its historical heritage is not. With 10,000 properties on the National Registry of Historical Places, Delaware's heritage can be found from the industrial north to the agricultural south to the estuarine industry along the coast and rivers.
"An under-represented part of Delaware history is our industrial and maritime history and our African-American community," Ames said. "Our towns and lakes are microcosms of national trends and our historic landscapes and small towns represent the most endangered areas."
Ames said that additional biking and walking tours can provide the basis of a more sustainable tourism. "I think what is missing is tourism planning that protects our heritage," he said.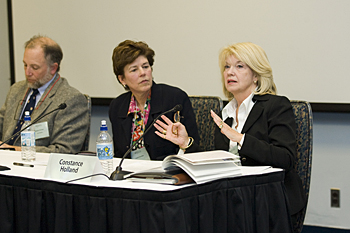 Kee said he sees Delaware's agricultural heritage as a living legacy, an open space that is itself a huge economic industry. "In Delaware, agriculture is a billion dollar industry and, if you consider Delmarva, it becomes a $10-15 billion industry," he said.
Kee said there has been a resurgence of interest in what was on the Delmarva peninsula before houses. Delaware's Agricultural Museum, the Delaware Historical Society and many historical societies in small towns continue to attract interest, but they are expensive to maintain. "Agricultural land preservation is still important to keep open space in the state," he concluded.
"Our state maritime heritage is under-represented, but it is incredibly rich," Forney said. "We had shipbuilding areas of considerable importance in colonial America," he said. "Cypress, cedar and oak were available for building ships at Lewes and up the rivers. Cato was one of the few African-American shipbuilders of that time and Leipsic was a fur-trading area, providing muskrats from the great marshes."
"We have forts. Thomas Fisk recorded the coming and going of the British fleet from our shores during the revolutionary war and Fort Delaware was built to defend us against the British in the War of 1812. We have Fort Salisbury from World War I and Fort Miles from the Second World War."
Forney said that the town of Lewes, in cooperation with the Delaware Nature Society and the Greater Lewes Foundation, has used its zoning ordinances to save the relationship the city has with the sea. "We now have a $10 million project to clean up the Lewes boat yard, to turn a brownfield into a park," he said.
"Cultural tourists stay longer and spend more," Scanlon said. As former director of the Delaware Division of the Arts, she said her job was to trace scarce resources, determine why something was worth preserving and what has an impact on them.
"From museums of many kinds to fine art, theatre, dance and music, the arts contribute to our life and are a catalyst for redevelopment," she said. "Nonprofit art organizations contribute more than $140 million to the state."
Arts and culture build better communities, Scanlon said. To sustain these assets, the state set up the $21.5 million Arts Stabilization Fund in 1993 to support eight large arts organizations. "Should we start another endowment fund? The arts are challenged and current funding environment may lead to some consolidation," she said.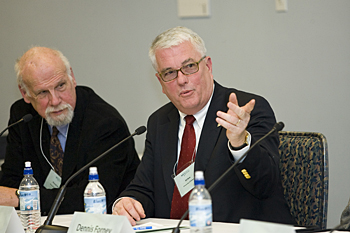 Scanlon listed several alternative ways to fund the arts:
Set up arts and entertainment districts where tax breaks may be used renovate buildings and provide venue for the arts;
Use part of hotel taxes or corporation filing fees for the arts;
Dedicate part of vanity license plate fees to art organizations; and
Dedicate a percentage of costs of public buildings to the arts.
Holland said there is a need for an overarching regulatory commitment to conserve farmland, scenic resources and state heritage. She pointed out the goal of Livable Delaware is not to stop growth, but instead to be progressive, maintain growth and retain the character of the state.
"People must decide the type of community they want to have, billboards or trees," she said, adding that one farmer told her that a housing development would be "my last cash crop."
"We need land use ordinances, more education and cooperation and intergovernmental coordination," she said. "You may need regulation to maintain a small town's character."
Article by Cornelia Weil
Photos by Kevin Quinlan