Using environment to produce more healthy lifestyles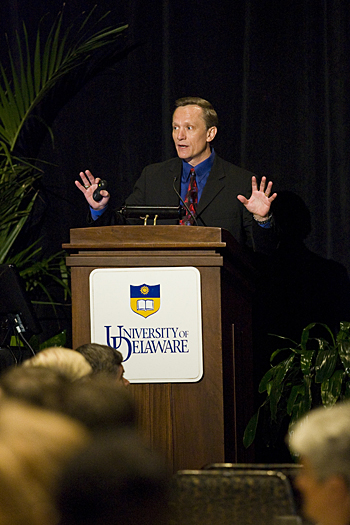 7:01 p.m., March 26, 2008--"Place does matter!"
That was the message given by Richard E. Killingsworth, executive director of the Harvest Foundation, and keynote speaker during a luncheon presentation, "Creating a Healthy Delaware," at Clayton Hall on Tuesday, March 25.
Killingsworth's remarks were part of the "Creating a Livable Delaware: Pathways for Enhancing Prosperity and Quality of Life" conference that also was broadcast at UD's Carvel Research and Education Center in Georgetown.
The conference was the second in a series of programs looking at the continued growth of the First State and the surrounding regions. Presenters also examined the emerging trends and strategies that will impact economic prosperity and the quality of life in Delaware.
"We need to think about what brought us here today and the spaces we moved through to get here," Killingsworth said. "Before you leave here today, I would like you to think about what decisions were already scripted for you because your environment did not provide a choice."
Killingsworth said that the issue of using the environment wisely to encourage healthy and active lifestyles is definitely not a new concept.
To view a PDF of Richard Killingsworth's PowerPoint,
click here
.
"These ideas go back to what Frederick Law Olmsted said about the need to think about how we address the paradigm, about how this [model] can destroy the environment," Killingsworth said. "While today's communities may appear to be healthy, these communities are over sanitized, and they do not provide us with access to abundant, active lifestyles."
Many people are unaware of how their environment negatively affects their choices for obtaining a healthy lifestyle with plenty of physical activity because they do not see beyond the reality of their everyday commute, Killingsworth said.
"We are where we live, and we often speed through this environment, and we don't stop to think about it," Killingsworth said. "When we start to study our environment to accommodate our needs, we see something. We can change the environment to meet our needs."
Killingsworth said that now is an excellent time to marshal the talents and visions of a wide variety of individuals and professions in creating a nourishing and sustainable social environment.
"When we think of how many different practitioners we have in this room, we need to think about how we can build synergies, as we try to create communities to be economically sustainable for the future," Killingsworth said. "We need to focus on design, to see how place-making affects our opportunity to become a healthier nation. We need to think about how a community can become a neighborhood."
Driving the need to create communities that encourage a more active and healthier lifestyle are the problem of childhood obesity and the needs of a growing older adult community, Killingsworth said.
"We have this enormous emergence of a sedentary society because of the way we have built our communities. We have become dependent on convenience living," Killingsworth said. "It is never too late to change the world. We need to think about how a community will look 20 years from now. Americans need to engage in physical activities that will last them for a lifetime."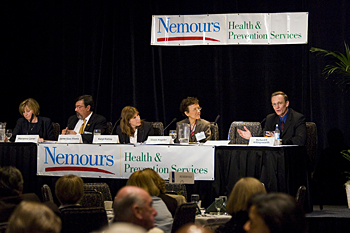 Killingsworth was the national director of Active Living by Design, an initiative supported by the Robert Wood Johnson Foundation while at the same time serving as an associate research professor at the University of North Carolina in Chapel Hill, N.C., in the School of Public Health. He also is the author of numerous articles and was co-editor of the
American Journal of Health Promotion
.
Serving in the federal government for 15 years, Killingsworth was a health scientist with the Centers for Disease Control and Prevention and was the lead interventionist on the CDC's Active Community Environment Initiative.
Killingsworth earned a his bachelor's degree in community health education from Indiana State University and a master's of public health education from Indiana University. He is also completing a doctorate in architecture, behavior and culture from Georgia Institute of Technology.
Response panel discussion
A panel discussion in response to Killingsworth's remarks was moderated by Gwen Angelet, director of the Office of Strategic Partnerships and Program Integration, Nemours Health and Prevention Services.
Panelists included Jaime [Gus] Rivera, director of the Division of Public Health, Delaware Department of Health and Social Services; Marianne Carter, director of the Delaware Center for Health Promotion at UD; and Karyl Rattay, senior policy and program analyst, Nemours Health and Prevention Services.
"We know that the presence of obesity has tripled in the last 10 years, and there has also been a tenfold increase in Type II Diabetes," Rattay said. "One out of three children born in 2000 will develop Type II Diabetes in our lifetime if we do not turn this around."
Rivera said that while providing adequate health care for all persons is important, it is not the only answer to addressing and reversing the incidences of childhood obesity and related diseases such as Type II Diabetes and heart disease.
"We need to ask ourselves some serious questions about where public health is going in our country," Rivera said. "When you have the political will to move forward, public health will move forward."
Carter said addressing issues such as childhood obesity calls for the use of "brains, brawn and bucks," and the willingness to examine how our society views preventive measures versus care for those who are sick.
"We need to educate the individual about personal health issues, and we need to look at pubic policy issues," Carter said. "This is an extremely complex issue. We need to get schools and business and the community to work together."
Article by Jerry Rhodes
Photos by Kevin Quinlan