Grad selected as Delaware poet laureate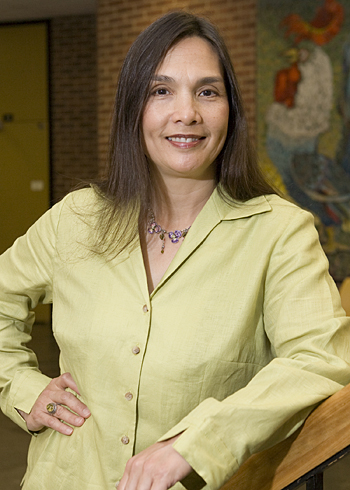 1:55 p.m., June 25, 2008--"I have to write, and I have to write poetry. Writing about things helps me comprehend the world, understand life and my experiences," says Delaware's new poet laureate, JoAnn Balingit, who got her doctorate in educational leadership on May 31 from UD's College of Human Services, Education and Public Policy.
Balingit says that she was delighted and honored by her appointment as state poet laureate by Gov. Ruth Ann Minner in mid-May and that she plans to be a proactive poet laureate for the state, working with the Delaware Division of the Arts.
"I want to enhance the presence of poetry in the state and in the schools," she says. "I also want to support working writers and continue the three-day retreats at Cape Henlopen, which were begun by Fleda Brown [UD professor of English emerita and former Delaware poet laureate]. Having three days to do nothing but write with no other obligations is wonderful. It clears the mind and allows you to focus on your writing, and there also is the fellowship and interaction with other writers."
Balingit has won several awards for her poetry, and her work is included in the national anthology Best New Poets 2007 and other poetry collections. Her poems have appeared in journals, including Rolling Stone magazine. Her poetry chapbook, Forage was a finalist in the 2006 Bright Hill Press Chapbook Contest, and her work will be included in the forthcoming On the Mason Dixon Line: An Anthology of Contemporary Delaware Writers, which is being published by the University of Delaware Press.
In addition to poetry, Balingit is an accomplished prose writer, and won first place in fiction/nonfiction at the New Castle Writers' Conference on May 9, for "Some Boy Somewhere," about her younger son, Julian, and also was a finalist in the poetry section. It was a family affair that night as her older son, Adrian, won an award for writing for high school seniors.
Growing up as the third of 12 children, Balingit said she has always worked. "The women in my neighborhood in a town in central Florida liked a shawl I crocheted so I crocheted them shawls. I was an ice cream dipper, envelope stuffer--whatever work I could find."
The family's life was shattered, she says, when Balingit's father, who had not been well, killed her mother and himself. Relatives came from Indiana, and many of the children were raised there. Balingit finished her senior year of high school and then had a full scholarship at Florida State University and moved to its Scholarship House, which became her home.
"Living on my own in a way was a bonanza for me. I tried to close the book on sorrow and despair and cover up my pain, but it is a still a part of me," Balingit says.
She kept in touch with her family through constant letters, and now they get together at family reunions. Some made the journey to the ceremony when Minner installed Balingit as poet laureate of Delaware on May 14 at the Tatnall Building in Dover.
During her college years, Balingit's interest was in teaching and writing criticism, and she next went to the University of California at Irvine. "I had friends who were in the poetry program, and UCI had a regular poetry reading series by nationally known poets which intrigued me," she said.
New adventures lay ahead. She and her first husband lived in Morocco, where she tutored English, then moved to Lisbon, where she taught English, and returned to the U.S., where she was an adjunct faculty member at the University of South Florida and at Owensboro (Ky.) Community and Technical College. The family eventually moved to Newark with their two daughters and son, and Balingit taught in UD's writing program for a year.
Libraries have always been a part of Balingit's life. "A big treat was being dropped off at the bookmobile while my mother was grocery shopping. Later I began taking the bus or biking to the small local library," she recalls.
With a degree in library and information science from Indiana University, Balingit worked as a librarian in elementary schools at Bancroft Academy and then at Avon Grove High School in West Grove, Pa. Recalling her years as an elementary school librarian, Balingit says, "I saw every child in the school. It was like a tornado when each class rushed in, returned their books and picked out new ones. The only thing that would quiet the children down was to read aloud to them, and I read poetry."
One of the books she used was the Random House Book of Poetry for Children. One day it disappeared between classes and never resurfaced. "One of the children had taken the book," she said. "Imagine stealing a book of poetry, and it was a big book, too, and hard to disguise."
Needing some credit hours for her librarian job, Balingit decided to get her doctorate in educational leadership and curriculum and instruction, which she received at Commencement this year.
Meantime, she remarried and she and her husband, Fred Hofstetter, professor of education at UD, have a son. Balingit has returned to teaching to home school Julian. Her other job at the present time, she says, is to serve as an active and involved poet laureate for the state of Delaware. "The arts are a necessity not a luxury," Balingit said.
Below is a poem by Balingit that she says was inspired by The Delaware River in Winter, ca. 1920, by Walter Elmer Schofield.
Song of a river
I am a mouth pried
slowly open
swallowed
by a wider mouth
sipped
from
soaked
into
rising out of its
banks the way
words rise
into words
of others or drown
in others' words or
drink them
in.
I am a daughter
with seven sisters
who course
from a single mother--
little tributes,
tributaries,
we tarry, go
we tarry, go.
My praise,
my running
ends in mother--
widest song I know.
Article by Sue Moncure
Photo by Tyler Jacobson