Green Lodging program honors UD Courtyard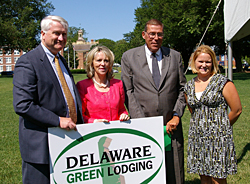 5:05 p.m., June 19, 2008--Delaware Green Lodging, a new program that encourages Delaware hotels to implement pollution prevention practices, was unveiled June 19 during a special ceremony held on Legislative Mall in Dover. The ceremony included recognition for the Courtyard Newark-University of Delaware hotel on campus.
The Courtyard Newark-University of Delaware and the Christiana Hilton were the first two hotels in the state to join the program and Secretary John A. Hughes of the Delaware Department of Natural Resources and Environmental Control (DNREC) presented Delaware Green Lodging certificates to Bill Sullivan, hotel managing director of the Courtyard, and Brad Wegner of the Christiana Hilton. Hughes also thanked them for their commitment to the program.

Delaware Green Lodging is a partnership between the DNREC and the Delaware Hotel and Lodging Association, of which Sullivan is the chairperson, and is designed to bring the "green" movement to the forefront of the state's tourism and hospitality industry.

"A healthy, sustainable environment is vital to Delaware's tourism industry," Hughes said. "The Green Lodging program represents a giant step forward in meeting the challenges of a more environmentally-concerned planet by encouraging hotels to take steps to reduce their environmental impacts. Environmental responsibility is not only good for business, but it's good for Delaware."

The Delaware Green Lodging Program is a voluntary, self-certifying program that encourages hotels, resorts and other hospitality facilities to understand their impacts on the environment and to take steps to reduce pollution, conserve energy and protect natural resources. To qualify, businesses must implement a minimum of five basic pollution prevention practices - recycling, water conservation, optional linen service, water use reduction, and a "green events" package.

"This is absolutely the right thing to do for our hotel, our guests and our employees," Sullivan said, adding that many prospective guests and meeting planners inquire about the green lodging practices at the campus hotel, a joint project of UD and the Shaner Hotel Group. "This is exactly what our customers are looking for."

Sullivan said the recognition is a reflection on the hard work of the Courtyard staff, and bears testament to the strong working relationship between UD, Shaner and Marriott.
He added that the Delaware Green Lodging program "is consistent with the University's Path to Prominence," which includes an initiative for the planet and a goal of becoming "the green University."

Businesses that wish to participate in the program receive free technical assistance from DNREC's Pollution Prevention program. Facilities that meet program requirements receive a Delaware Green Lodging certificate and window decals and can display the Delaware Green Lodging logo on marketing materials. In addition, Green Lodging hotels are listed on the program website and are eligible to participate in grant opportunities.

"The average-sized hotel purchases more products in one week than 100 families purchase in a year," said Crystal Nagyiski, program manager of DNREC's Pollution Prevention Program. "Delaware hotels have a tremendous opportunity to reduce waste and pollution, and we hope businesses across the state will contact us and join the program."
Photo by Kathleen Sullivan