Prof. Buchanan honored with Trabant Award for Women's Equity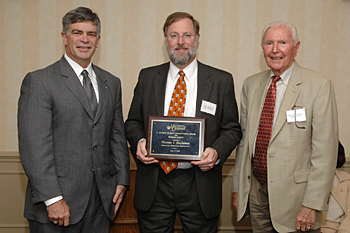 4:46 p.m., June 5, 2008--Thomas Buchanan, professor of mechanical engineering and chairperson of the department, has been awarded the E.A. Trabant Award for Women's Equity.
The award was established in recognition of UD President Emeritus E. Arthur Trabant's support for women's equity and is given by the President's Commission on the Status of Women (PCSW) each year to an individual, department, administrative unit or committee that has contributed to the equity of women at UD.
As head of the Department of Mechanical Engineering, Buchanan has played a key role in the increase in tenure/tenure-track women faculty in the College of Engineering, as well as improving the climate for female faculty and students. Since he become chairperson, the proportion of women faculty in his department has increased to 19 percent--third highest among the top 50 mechanical engineering departments in the country, PCSW noted.
Besides taking a lead in hiring, mentoring and retaining women faculty in the department, Buchanan also has engaged his female colleagues in collaborative research. Last year, UD was awarded an $11 million National Institutes of Health (NIH) grant for osteoarthritis research. Buchanan serves as the primary investigator, and women faculty are leading the five major research projects for this grant, coming from three different departments and two different colleges.
"Dr. Buchanan has served as an important and active role model, which has led to a healthy work environment for all faculty, and he has significantly improved the climate for women faculty and students," PCSW noted in announcing the award.
UD President Patrick Harker and Trabant made the award presentation during a luncheon on May 13.
Photo by Kathy F. Atkinson