UD, 'News Journal' project allows underage straw vote online on 'Super Tuesday'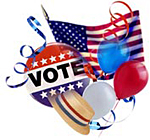 2:48 p.m., Jan. 31, 2008--Delaware students statewide will be able to cast their votes for their favorite presidential candidate on Tuesday, Feb. 5, the same day Delaware holds its primary.
"Student Vote 2008" is a mock presidential primary being held on "Super Tuesday" for all students in grades 4-12. When citizens in more than 20 other states nationwide cast their votes in the presidential primaries, the mock primary--a collaboration between the Democracy Project, a civics education program at the Institute for Public Administration at UD, and The News Journal--will bring online voting to the classroom. The results will be published on The News Journal Web site for students and teachers to analyze how their votes measure up to those nationwide.
Nearly 85 schools already are registered for the event, evenly spread among elementary, middle and high schools statewide.
Ed Freel, a policy scientist for the Institute for Public Administration and program manager for The Democracy Project, said this election is different from previous primaries because it is the first time in nearly a generation there is not a sitting president or vice president running for office. There is also the potential for the first woman or black president to be elected in the United States. In addition, there have been a record number of presidential debates from both the Republican and Democratic parties and an unpredictable primary schedule. "It's a wide-open field," he said.
To participate, schools had to register online for the mock vote and secure a code that allows them to cast votes online on Tuesday. Students will log on during Super Tuesday and be asked first to choose a political party they would like to affiliate with before selecting the candidate they believe is suited best for president.
Fran O'Malley, program coordinator for the Democracy Project said teachers in registered classrooms are trying to simulate the real process as closely as possible. This effort includes having students research candidates' qualifications and positions, researching differences between major parties, creating campaign posters and mapping primary and caucus locations.
"Teachers are having students uncover the information themselves through research then helping students fill-in gaps as questions arise," O'Malley said. "Most teachers try to encourage students to find their own information just as they will be expected to do as adults."
Freel said the presidential primaries afford a great teaching and learning opportunity for civics-based classes in Delaware schools.
"Our social studies standards in grades 4-6 begin to introduce students to political parties and how they work. What we did was make resources available on our Web site and left it up to the individual teachers and curriculum directors to decide how they want to handle their primary," Freel said. "The primaries allow students to learn how we select our leaders and the role they play at a young age."
Freel said he hopes that engaging students early in politics will generate continued interest throughout a student's schooling and continue into adulthood. "It's important that when students leave our schools, they have an appreciation for their role and responsibility as citizens in a democracy. Opportunities like 'Student Vote 2008' will create interest in how we select our leaders and encourage participation in the future."
The Democracy Project at the Institute for Public Administration is in its 10th year at the University of Delaware. Its goal is to work year-round with Delaware schools to improve civics education for teachers and students. Democracy Project team members participate in various University service and leadership initiatives as well as numerous speaking engagements.
For more information, visit [www.ipa.udel.edu/democracy/index.html]
Article by Sarah Lipman, AS '08