New show of African American art on view until May 23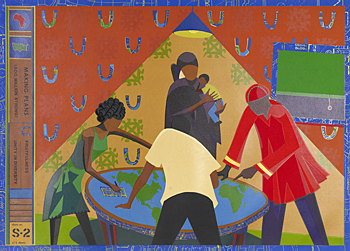 4:34 p.m., Jan. 31, 2008--A new exhibition of African American art, "In Remembrance: Artists from the Paul R. Jones Collection," runs through May 23 in the Mechanical Hall galleries at UD.
The exhibition honors the lives of artists Benny Andrews, John Biggers, Ernest Crichlow, Michael Ellison, Reginald Gammon, Earl Hooks, Gwendolyn Knight-Lawrence, Alvin Loving, Eugene Martin, Hayward Oubre, John Riddle, Charles Searles and Alvin Smith.
It celebrates the work of artists who have died since the 2001 announcement of the gift of The Paul R. Jones Collection of African American Art to the University of Delaware, as their passing provides opportunity for reflection upon their contributions to the canon of contemporary American art.
Many of the artists featured overcame significant obstacles--economic, social, political and personal--to learn their craft and pursue their passion. Besides being notable working artists, many also were committed educators and activists who worked to provide opportunities for other rising artists.
The exhibition was curated by Janet Dees, a doctoral candidate in UD's Department of Art History.
The free exhibition is open to the public and is accessible to those with disabilities. Gallery hours are 11 a.m.-4 p.m., Tuesdays, Thursdays and Fridays; 11-8 p.m., Wednesdays; and 1-4 p.m. Saturdays and Sundays. The gallery is closed Mondays and on University holidays. For more information, call (302) 831-8037.