UD wins grant to foster U.S.-Middle East dialogue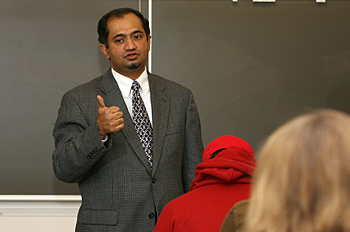 3:35 p.m., Feb. 12, 2008--Muqtedar Khan, associate professor of political science and international relations and director of UD's Islamic Studies Program, and the Center for International Studies (CFIS) have been awarded a grant of $494,368 from the U.S. Department of State's Bureau of Education and Cultural Affairs to implement its program, "Faith and Community: A Dialogue."
The program goal is to initiate a dialogue on religion and politics between key members of religious and community organizations in the Middle East and the United States. Under the grant, participants from Egypt and Saudi Arabia will be on campus this summer for a brief period before traveling to other locations, including New York City, Chicago, Los Angeles and Washington, D.C. Later a group of American scholars will travel to Egypt and Saudi Arabia to take part in similar activities in those countries. A documentary film is planned of the visit to the U.S.
"I am thrilled to receive this grant for this important diplomatic program," Khan said. "It will expose scholars and other key figures in Egypt and Saudi Arabia to issues of religious freedom in the United States and open the dialog with American scholars. We plan to film a documentary of the Muslim scholars' visit that can be shown to students as a learning tool, as well as to other scholars and organizations in their home countries."
The goal of the program, which begins immediately and will continue for two years, is to demonstrate the vibrancy of faith, underpinned by freedom, according to Lesa Griffiths, director of CFIS. Participants will explore contentious issues about faith and Islam in the public sphere through both private and public discussions.
"I am especially pleased that we are able to assist Prof. Khan with such an interesting and vital project," Griffiths said.
Khan is currently interviewing candidates, which may include scholars, editors and other influential persons, to take part in the program.
Growing up in India, Khan, who is known for his moderate views, at first pursued a career in business. While in India, he met his wife, Reshma, and the couple moved to the United States, where he earned his doctorate in international relations, political philosophy and Islamic political thought from Georgetown University. After teaching at Adrian College in Michigan, he joined the UD faculty in the fall of 2005.
Khan has become well-known in the public arena for his writings and commentaries and has been quoted in prominent U.S. newspapers, such as The New York Times and Washington Post, and in other periodicals worldwide, including those in England, Canada, Saudi Arabia, India, Pakistan, Indonesia and Japan. He is a frequent commentator on radio and TV networks and maintains a Weblog, entitled Globalog and a column on Islam and global affairs, titled "Ijtihad: A Return to Enlightenment."
His books include American Muslims: Bridging Faith and Freedom; Jihad for Jerusalem: Identity and Strategy in International Relations; Debating Modern Islam; and Islamic Democratic Discourse.
Article by Sue Moncure