UD junior crowned Miss Delaware USA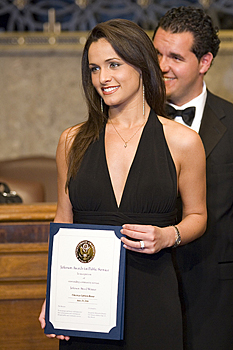 4:01 p.m., Dec. 21, 2007--UD junior Vincenza Carrieri-Russo was crowned Miss Delaware USA 2008 by UD junior Nicole Bosso, Miss Delaware USA 2007, at a November ceremony in Dover. During the next year, Carrieri-Russo, who is an English major, will serve as a goodwill ambassador throughout the state and volunteer time to assist community charities in raising awareness and funds and then will represent Delaware in the Miss USA competition in April in Las Vegas.
"I've been competing in pageants since I was 15," Carrieri-Russo said, "and this is my first state title. Participating in pageants has been a positive experience for me, and it opens new doors. I've learned to appear in public, speak before small and large groups, learned the confidence to express myself and my personality. As I hope to become a broadcast journalist, this is good training. It's disappointing when you don't win in a pageant, but you learn a lot about yourself in the process."
While a student at UD, Carrieri-Russo co-founded Success Won't Wait, a nonprofit group to encourage literacy and reading that has collected more than 100,000 children's books and distributed them to schools, libraries and community gathering spots. The group also has shipped books to U.S. soldiers serving in Iraq, and to people in penal institutions.
As Miss Delaware USA, Carrieri-Russo said she will help Success Won't Wait to become better known. "The Miss Delaware USA crown is my microphone to help causes I care about," she said.
Her volunteer work has brought her local and national recognition, and in 2004 Newark Mayor Vance Funk declared July 15 to be Vincenza Carrieri-Russo Day. She also received the Jefferson Award, which honors ordinary people who do extraordinary things without expectation of recognition, and went on to receive one of the five national Jacqueline Kennedy Onassis Awards for public service in 2006. That same year she was named the Nikki Woolfe Volunteer of the Year and received a Daily Point of Light Award from the Points of Light Foundation, founded by former President George H. W. Bush.