Hotel room of the future now at UD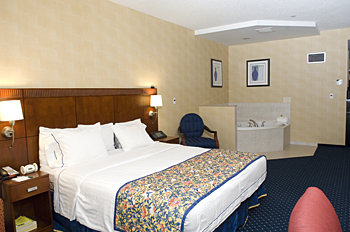 2:30 p.m., Dec. 6, 2007--Although it sounds like something from the future, present day travelers who love the latest gizmos and gadgets might want to check into the Courtyard Newark-University of Delaware and check out the many innovative features in the hotel's new
experimental guest room
.
Launched in September as part of Shaner Hotels' Experimental Guestroom of the Future project, the X-Room is both fun and functional thanks to amenities such as a guestroom digital assistant (GDA) that sports a color display touch-screen. The device allows guests to control climate, lighting, alarm clock and digital radio, and also comes with two-line speakerphone capability.
"Our X-room was inspired by the Guestroom 2010 project, which originated with the Hospitality Financial & Technology Professionals organization [www.HFTP.org]," Cihan Cobanoglu, associate professor of hotel, restaurant and institutional management (HRIM) and the manager of the X-Room project, said. "However, the key difference is that in our X-Room, guest and staff members actually get to use these new systems. I personally applaud HFTP for initiating Guestroom 2010. With our X-Room, we want to benefit the industry and vendors by showing what actually works and does not work in a real hotel environment."
New system items include:
A robotic vacuum cleaner that automatically cleans the carpet;
An air-powered showerhead and an ionic hair dryer help to save water and energy usage;
An LCD screen connected to a digital video camera that instantly lets guests know who is outside the door;
Flameless electronic candles;
An energy management system which adjusts the temperature and lights in the room when it detects that there is no guest in the room;
A flat screen, high definition TV with a connectivity panel for guest devices such as an IPod or digital camera.
Adding a touch of whimsy and practicality is "Clocky," an alarm clock that gives guests one time to wake up when the alarm goes off. If the snooze button is engaged, Clocky will jump off the nightstand and wheel around the room looking for a place to hide. When the alarm goes off again, the guest has to find the alarm to turn it off.
"We are excited to work with a visionary partner like Shaner Hotels," Cobanoglu said. "As the contracted management for the Courtyard by Marriott Newark--University of Delaware, their role has been huge, especially in mentoring and providing opportunities to involve our hotel, restaurant and institutional management students in almost every aspect of day-to-day hotel operations."
Guest in the X-Room will be given a survey, and data from the X-Room will be analyzed and shared with the room's technology vendors to assist them in production development. In addition, the findings will be shared with the industry professionals such as HFTP members to help them with decision making for technology projects, William Sullivan, managing director of the hotel, said.
"The experimental guest room is a unique feature of the hotel that allows our guests to experience new technology firsthand and then encourages them to give feedback to our HRIM students and faculty," Sullivan said. "This 'living learning' laboratory is an outstanding opportunity for our students to interact with the guests as well as the developers of these amazing new technologies."
Robert D. Nelson, HRIM chairperson, said, "the experimental guest room serves as a magnet to attract the very latest guest services to our hotel, where they can be independently tested by our graduate students and faculty."
Jane Sullivan, project manager for the X-Room and a graduate student in the hospitality information management master's program, said that the project reflects a lot of hard work and dedication from UD and the partnering companies.
"It has been so exciting to be part of such an innovative concept," Sullivan said. "We are all looking forward to providing our guests with a taste of the future right inside our very own experimental guest room."
Cobanoglu said that the X-room at UD is a work-in-progress and that it will include the use of additional technologies.
"Some of the future technologies are wireless electricity, face recognition key lock, personal video phone and electronic ice bucket," Cobanoglu said. "We invite everybody to contribute to our X-Room either by staying in it or by giving us feedback or suggesting a technology to test."
Article by Jerry Rhodes
Photo by Kathy F. Atkinson