Drive gathers bushels of food for charity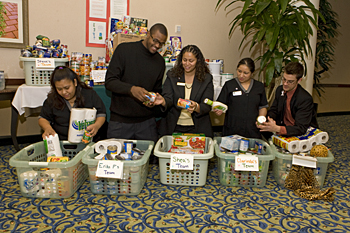 3:55 p.m., Dec. 7, 2007--In an effort to spread the bounty of the season in a way that's aligned with something they know a little bit about, students of UD's Department of Hotel, Restaurant and Institutional Management (HRIM) collected 200 cans of food (about enough to fill 20 large laundry baskets full to bursting), several pounds of pasta, dried milk and instant soup, and packages of diapers, paper towels and other paper goods during a month-long food drive that ended Wednesday, Dec. 5, in a massive drop-off at the lobby of the Courtyard Newark-University of Delaware hotel.
Spearheaded by Herb Courtney, a senior from Ambler, Pa., and Laura Wildey, a junior from Wilmington, Del., both hotel and restaurant management majors at UD, the effort was driven by donations collected by teams of employees at the Courtyard Newark-University of Delaware who will donate the bulk of the food to the Food Bank of Delaware and a smaller portion of it to Emmaus House.
"In our major every year we do a practicum that includes a community service project," Courtney said. "What we did this year was to recruit teams of employees at the hotel and assign UD hotel and restaurant management students as team captains."
The drive, which was publicized by posters placed around the hotel, promised a yet-to-be-determined "hotel-related" prize to the team that collected the most cans. According to winning team member Erika Maysonet, a front desk agent and translator, the effort also garnered unanimous and enthusiastic contributions from all hotel personnel.
"Everyone at the hotel contributed to this drive," Maysonet said. "At this time of the year, you become more aware of the open poverty that exists--there are so many needy people that don't even get enough to eat every day--and so this effort really feels good."
Courtney, who will help deliver the food to the Food Bank of Delaware later this week, said that he was inspired by the response because he is aware of the level of need and because the donations confirmed the generous streak that he already knew existed in people who gravitate to hospitality professions.
"I think this kind of effort is important because it's good to give back to the community," he said. "It goes a long way and it's not that hard, and especially around the holidays, it's an important way that we can make a difference in the lives of those less fortunate."
Article by Becca Hutchinson
Photo by Kathy Atkinson