Weather or not!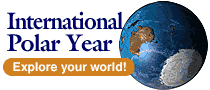 11:30 a.m., Dec. 17, 2007--
Editor's note:
With support from the National Science Foundation, University of Delaware researchers have been working on the IceCube neutrino telescope in one of the iciest, coldest, most austere places on the planet: South Pole, Antarctica. Thomas Gaisser, director of UD's Bartol Research Institute, has been blogging from South Pole Station for the past few weeks and is now back home, while colleagues James Roth and Stoyan Stoyanov are now preparing to leave the frozen continent. Researcher Len Shulman has just arrived at South Pole Station to continue the mission.
Their Antarctic blogs are appearing on UDaily and on the Wilmington News Journal's Delaware Online Web site through a partnership between UD and the newspaper.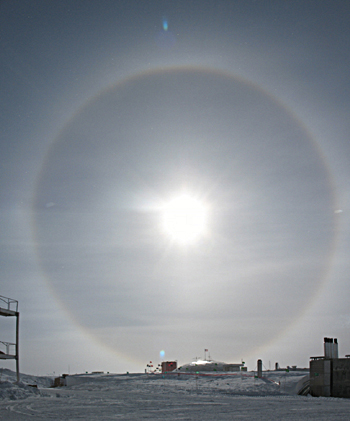 When I first arrived here, we had temperatures of -40° or lower every day. During the last week, there has been a warming trend. The temperature has warmed to -24°C, but the wind has picked up. Yesterday, the winds were at 26 knots. All of the pictures I have sent so far showed blue skies, but add 26-knot winds and you have a whiteout!
With the bad, comes the good. Ice crystals blowing in the air cause an atmospheric phenomenon called a Sun Dog. It is a rainbow-like halo around the sun. It is a spectacular site!
These conditions are normal at the South Pole, so work continues. Despite the weather, yesterday we filled our 28th and final IceTop tank for the 2007/08 season. This was a remarkable season! We filled 28 tanks in 9 days. This is the most tanks we have deployed in a single season. This also makes a total of 80 IceTop tanks, which marks the half-way point for the IceTop project construction phase. It is now up to Mother Nature, and our freeze control units, to freeze the water into perfectly clear cosmic ray detectors.
Leonard Shulman arrived this week. He will assume the duties of monitoring the freezing process and solving any problems that may arise. Stoyan and I are scheduled to leave Pole tomorrow for McMurdo. On Tuesday, a C17 cargo plane is scheduled to do an airdrop at the South Pole. This is only the second airdrop ever attempted by a C17 at Pole. I was here for the first drop last year. If the airdrop goes as scheduled, the C17 will stop in McMurdo to pick up passengers. Stoyan and I are on that list. There is a possibility that they won't land in McMurdo, in which case our next opportunity to fly north is on Dec. 20. Wish us luck in making it home for the holidays!
-- James Roth