Undergrad research symposium draws capacity crowd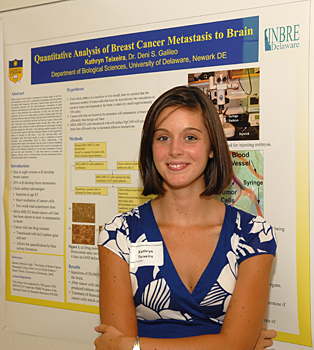 3:57 p.m., Aug. 14, 2007--Nearly 500 persons and 160 exhibiting students attended the seventh annual Summer Undergraduate Research Symposium, held Wednesday, Aug. 8, in McKinly Laboratory and Wolf Hall.
The symposium, a forum for undergraduate students to present posters or make oral presentations detailing their research, is part of a three-day campuswide event spotlighting students from UD, Delaware Technical and Community College, Wesley College and Lincoln University doing research in the sciences, mathematics and engineering.
The day began in Wolf Hall with a lecture, "Origins: Your Creative Research and Molecular Order," by David Lynn, professor of biomolecular biology and chairperson of the Department of Chemistry at Emory University in Atlanta. Lynn is an internationally recognized teacher and researcher on molecular recognition, bio-organic chemistry and chemical biology.
This year, a record-breaking 160 students put together presentations or posters for display at the symposium. Even with split poster sessions, the corridors were packed with parents, faculty and those questioning students about their work. They gathered around each poster as students enthusiastically explained their research.
What started in 2001 with 40 students and a few interested faculty clustered in a small space in McKinly Lab has blossomed into an annual event accommodating so many students that organizers had to divide poster displays into two sessions.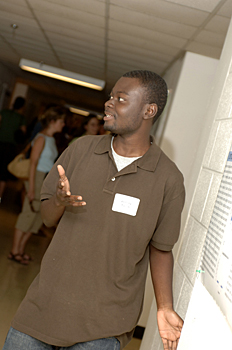 "It has grown tremendously. Each year, it's almost doubled," David Usher, associate professor of biological sciences, said. "Several other groups have asked to exhibit, but there's just no room," he said.
Harold White, professor of chemistry and biochemistry and director of UD's Howard Hughes Medical Institute Undergraduate Science Education Program, and Usher developed the oral presentation and poster session as a way to help students hone their communication skills and prepare for national competitions.
In order to prepare posters and presentations, students must learn how to explain their work clearly and in a few words. Besides learning laboratory techniques, Usher said, students are taught written and oral communication skills during the 10-week summer program.
Ann Benavides, a junior chemistry and French major from Haddonfield, N.J., who is examining Erb B2 kinase signaling to determine if breast cancer cells develop fluorescent sensors, said she had never actually done research before. She said it was very challenging, and at times frustrating and stressful, but that it has helped reinforce her career choice--to become a research chemist for an international group.
Research by Benavides and five other students was funded by a gift from UD alumnus David A. Plastino. The program awards study grants to UD chemistry and biochemistry students who exhibit extraordinary talent, promise and imagination.
The Summer Undergraduate Research Symposium is co-sponsored by the Howard Hughes Medical Institute's Undergraduate Science Education Program, the University of Delaware Chapter of Sigma Xi and the College of Arts and Sciences.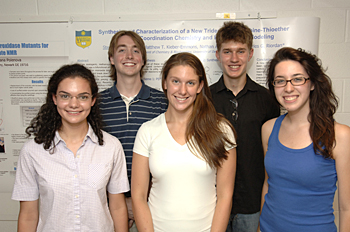 Winners of Sigma Xi awards for outstanding oral presentations at the symposium went to UD seniors:
Patrick Knerr, a biochemistry major from Emmaus, Pa.;
Corinne Decker, a biological sciences major from Dallastown, Pa.; and
Aly Bourreza, a biochemistry major from West Easton, Pa.
Participating students were supported by the Howard Hughes Medical Institute Undergraduate Science Education Program, UD's Undergraduate Research Program, the College of Marine and Earth Studies Intern Program, the College of Agriculture and Natural Resources, the National Institutes of Health Delaware IDeA Network of Biomedical Research Excellence (NIH INBRE) Program, the National Institutes of Health Bridges Program, the Beckman Scholars Program, the Ronald McNair Scholars Program, Charles Peter White Fellowships, the National Science Foundation Experimental Program to Stimulate Competitive Research (NSF EPSCoR) and a newly launched prostate cancer research project funded by the U.S. Department of Defense.
Article by Barbara Garrison
Photos by Jon Cox