Families of all students will reunite on campus Sept. 26-28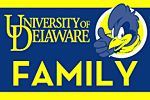 5:15 p.m., April 18, 2008--Parents and family members of all UD students will be invited to reunite on campus this fall for three days of fun and special activities, Friday-Sunday, Sept. 26-28.
In the past, separate weekends were held for families of freshmen and for families of upper class students. This year, all parents and families will have the opportunity to visit and reunite on the same weekend.
Parents and Family Weekend will include special events and activities and the chance to see the Fightin' Blue Hens football team take on the University of Albany at 6 p.m., Saturday, Sept. 27. Watch UDaily for Parents for updates.