Lectures, films, displays geared to educate, raise awareness about sexual assault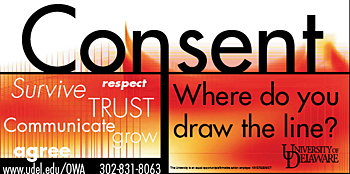 Editor's note: To read a special letter to the University community, click here.
1:58 p.m., April 4, 2008--A variety of activities, from films to lectures to social events, are planned for Sexual Assault Awareness Month in April, a campus-wide educational and awareness-building initiative cosponsored by UD's Office of Women's Affairs and Wellspring, UD's student wellness program.
Starting Monday, April 7, and running through Tuesday, April 29, the scheduled activities, which include several events for survivors of sexual assaults, are intended to educate the campus community about sexual assault crimes and the status of women in America.
"I feel that it's important to raise the awareness level of and prevention measures for sexual assault crimes on our campus, and that's what this programming strives to do," said Angela Seguin, program coordinator at UD's Center for Counseling and Student Development, who together with Becki Fogerty, manager of UD's Office of Women's Affairs, co-chairs the committee that organizes the month's events. "We have tried very hard to make the programming multiculturally appealing and attractive to a wide range of learning styles this year, and that's why there's a dance--for purely social reasons--and a kickball tournament--for fundraising reasons--as well as lectures and films and a rally."
Seguin said that the programming committee made an effort, as well, to offer several events for survivors of sexual assault. "Events for survivors are important," Seguin said, "because when survivors share their experiences with others and with supportive friends and partners it allows them to break the silence."
Fogerty said that she thinks the month's activities show the diverse issues and groups that sexual assault touches. "Sexual assault knows no gender, no age, no race or ethnicity, no class, no sexual preference," she said. "It really is a crime that impacts all, and, unfortunately, occurs around the globe."
Emily Halle, a senior double-majoring in political science and economics from Storrs, Conn., who along with other members of the UD chapter of the National Organization of Women (NOW) organized the April 15 event, "Silence Is Violence," said that boosting sexual assault awareness on campus is critical for building a safer student community and raising awareness of the problem.
"Sexual assault is not talked about on this campus enough," Halle said, "and we really need more attention paid to it than a month will allow, because it's a huge topic to deal with. But this programming is a good start, because it makes people aware of the services offered and is educational and appealing."
All events associated with the programming are free and open to all members of the University community and their guests, and the following list gives the lineup. For a complete list of sponsors, more information on Sexual Assault Awareness Month events and up-to-to-minute schedule additions or changes, call the Office of Women's Affairs at (302) 831-8063 or visit [www.udel.edu/OWA].
11 a.m.-1 p.m., Mondays, April 7, 14, 21 and 28, at a kiosk in the Trabant University Center, free flyers, posters, brochures and details about sexual assault awareness events will be available. Free T-shirts to show support for survivors also will be available while supplies last.
10-11 a.m., Wednesday, April 9, 205 Kirkbride, Michelle Meloy, a 2001 UD alumna and author of the book Sex Offenses and the Men Who Commit Them, will lecture on "Sex Crimes, Sexual Perpetrators and the Importance of Gender." In this talk, Meloy will explore the dynamics of sex crimes, motivations and typologies of sexual offenders, victim-offender relationships and risk factors of sexual violence. Sex offender laws also will be discussed.
7:30 p.m., Wednesday, April 9, Trabant University Theatre, the film Mystic River will be shown. The film features Academy-Award winning performances by Sean Penn and Tim Robbins and stars actors Kevin Bacon, Laura Linney and Lawrence Fishburn. The story revolves around friendship, family and innocence lost too soon. A discussion facilitated by Kelly Turner of Prevent Child Abuse Delaware will follow.
11 a.m.-2 p.m., Wednesday April 9, and Thursday, April 10, on the Trabant University Center Patio (rain location will be the Food Court), "A Walk in My Shoes" display by Contact Lifeline's Sexual Assault Network of Delaware will include a pair of shoes to represent every Delaware survivor of sexual assault or abuse. Many pairs bear their survivors' stories. In prior years, a few students have been so inspired by the courage and strength of survivors that they have left behind their own shoes and stories.
7 p.m., Thursday, April 10, Bacchus Theatre, Perkins Student Center, Sgt. David Bartolf and Sgt. Nicole Solomon will lecture on "Defensive Drinking and Other Approaches to Safety on Campus." They will discuss safety measures women can take to guard themselves against trouble, such as guarding their drinks from unwanted additives and refusing drinks from strangers, as well as limiting alcohol consumption and remaining sober.
9 p.m.-midnight, Thursday, April 10, Kent Dining Hall, a dance with DJ Amaze with the theme "Make It Sexy," will promote the idea that "asking for consent is sexy." Music will include hip-hop, dance, top 40 and party breaks. Participants are asked to wear their "Asking for Consent is Sexy" shirt to be eligible for random prizes.
7 p.m., Monday, April 14, Trabant University Theatre, the film Boys Don't Cry, starring Academy Award winners Hillary Swank and Chloe Sevigny, will be shown. This movie is based on the true story of Brandon Teena, a transgendered teen who preferred life in a male identity until it was discovered he was biologically female. A discussion facilitated by John-Paul Pelletier, director of program development for J.U.S.T. for Youth, will follow the film.
7 p.m., Tuesday, April 15, in Multipurpose Room A of the Trabant University Center, Guerrilla Girls on tour with "Silence Is Violence" will perform a play especially customized for the University of Delaware community. The performance is billed as being upbeat, funny and empowering. The show will end with information for the audience about how to set boundaries and avoid potentially dangerous situations.
12:20-1:10 p.m., Wednesday, April 16, 116 Gore Hall, Anastasia Hudgins, a professor in women's studies, anthropology and sociology at Temple University, will lecture on "U.S. Policy on Sex Work Abroad." The talk will focus on the limitations of current U.S. policy towards sex workers in Cambodia, and how policies enact structural violence against the women who have chosen to enter the commercial sex industry.
6:30 p.m., Wednesday, April 16, in Dover, at the Modern Maturity Center, the Delaware Victims' Rights Task Force will sponsor the 17th annual Victim's Tribute. Exhibits will include a collection of T-shirts created by victims of sexual assault; memorial walls which display letters, poems and artwork submitted by crime victims and family members; the Silent Witness Project; and resource information. For directions or information, call (302) 739-3711.
7 p.m., Thursday, April 17, 120 Smith Hall, Katie Hnida, the first woman ever to play and score in a NCAA Division I football game, will give a lecture, "Still Kicking: Beyond the Goalposts." Hnida will share the story of her struggle to get to that groundbreaking game, talk about her devastating rape by a teammate and discuss her process of healing. After her talk, Hnida will sign copies of her book, which will be for sale and tells her story in print.
7 p.m., Tuesday, April 22, Trabant University Center Theatre, the film, Hip-Hop: Beyond Beats and Rhymes, will be shown. The groundbreaking documentary, which takes an in-depth look at manhood and gender roles in rap music and hip-hop culture, as well as at the misogyny, violence and homophobia with which the music is often associated, will be followed by a discussion led by Yasser
Payne, assistant professor of Black American Studies at UD, and Antonia Randolph, assistant professor of sociology at UD.
7 p.m., Wednesday, April 23, at Wellspring, 231 South College Avenue, a Make-Your-Own-Luminary event for survivors of sexual assault crimes will be held. During this time, a private environment will be provided for anyone wishing to design and decorate a luminary--a paper bag light that will be used to line the path up the walkway to the steps of Old College for Thursday night's "Take Back the Night" rally and march. Art supplies, bags and candles will be provided and sexual offense support volunteers will be available to give support, understanding and comfort.
8 p.m., Thursday, April 24, at the steps of Old College and rooms 209-211 of the Trabant University Center, the "Take Back the Night" rally and march will take place. The rally and march will start from the steps of Old College and conclude with a "speak out" in rooms 209-211 of the Trabant University Center. Lori Robinson, the author of I Will Survive: The African-American Guide to Healing from Sexual Assault and Abuse, will open the rally with a special address. Delaware Clothesline Project T-shirts will be on display in the Trabant University Center during the evening, as a tribute to women in Delaware who have been victims of domestic violence.
10 a.m., Saturday, April 26, at Academy and Park fields, a "Kick the Silence" kickball tournament will be held to raise funds to benefit Child Inc. of Delaware. Registration forms for teams are available at [www.pspalphaeta.com] and questions can be addressed to [hgreene@udel.edu] or [pazoles@gmail.com].
7 p.m., Monday, April 28, Room 206 Trabant University Center, Becki Fogerty, manager of UD's Offfice of Women's Affairs, will facilitate a discussion, "Even a Superhero Can Be a Victim: Buffy the Vampire Slayer." An episode of Buffy the Vampire Slayer will be shown and Fogerty will lead a multi-perspective discussion about sexual assault that is intended to clarify terminology and provide tips on how friends can support a survivor of sexual assault.
7 p.m., Tuesday, April 29, at the Trabant University Center Theatre, the film Searching for Angela Shelton will be shown. Based on an idea by filmmaker Angela Shelton, who set out to make a movie about meeting other American women named Angela Shelton, the movie instead chronicles what happened when she discovered that 24 of the 40 Angela Sheltons she interviewed had been raped, beaten or molested. A discussion, facilitated by Steve DiJulio, clinical director of Survivors Of Abuse in Recovery (SOAR, Inc.), and Susan Barton, SOAR's program coordinator, will follow the movie.
For more information, go to [www.udel.edu/OWA] or call (302) 831-8063.