Alternative energy undergrad internships offered at UD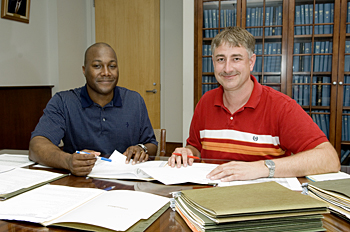 3:30 p.m., April 7, 2008--Top undergrads in chemical engineering from across the U.S. will pursue cutting-edge research on alternative energy at the University of Delaware this summer through an internship program sponsored by the National Science Foundation (NSF) in the ongoing quest to develop a diverse, internationally competitive and globally engaged science and engineering workforce.
UD's Department of Chemical Engineering and the Center for Catalytic Science and Technology will administer the three-year, $300,000 NSF Research Experiences for Undergraduates (REU) grant, which will enable 10 exemplary students per year in chemical engineering to work with UD researchers on such projects as the design of new fuel cells, to the engineering of novel nanomaterial coatings to reduce the drag on ships in water.
"Research in alternative energies and energy reduction technology is rapidly becoming one of the most important topics in engineering and science and will remain at the top of national research priorities for quite some time," said Jochen Lauterbach, professor of chemical engineering. "The next generation of scientists and engineers will have the opportunity to make a major impact in addressing the world's energy issues."
Lauterbach and Thomas Epps III, assistant professor of chemical engineering, are co-investigators on the grant, which involves 10 faculty at UD in a diversity of energy fields, from high-throughput catalysis research to hydrogen and biodiesel production.
"Energy and sustainability is a hot topic and was a natural focus for our REU program, given the University's significant expertise in alternative energy," Epps said. "A major goal is to attract underrepresented students, particularly from institutions that do not presently offer a Ph.D. program in chemical engineering, in order to provide these students with unique opportunities for exposure to advanced-level research."
To boost the participation of underrepresented students, Epps has been working to establish partnerships with Hampton University, Howard University, Delaware State University and Bucknell University.
Under the mentorship of faculty advisers, students selected for the program will not only conduct research, but also learn how to present their findings in scientific seminars and poster sessions.
Field trips also will expand students' energy horizons. Visits are scheduled for UD's Institute for Energy Conversion, a leader in solar cell research; Air Liquide in Glasgow, Del., which produces gases such as the hydrogen that is used in UD's hydrogen fuel cell bus; and Exxon Mobil in Clinton, N.J., where students will learn about hydrocarbon processing.
The REU students will live with other UD undergrad researchers in dorms at UD's main campus and will have ample opportunity to interact with faculty, graduate students, visiting scholars and industrial collaborators.
While final selections for the 2008 program now are being made, additional programs will be offered in 2009 and 2010. For more information, visit [www.che.udel.edu/reu].
Two other NSF REU programs will be offered at UD this summer: the Disaster Research Center will enhance students' understanding of the social science aspects of disasters; and the College of Marine and Earth Studies will provide research opportunities in oceanography, marine biology, marine geology, and marine biochemistry.
Article by Tracey Bryant
Photo by Kathy F. Atkinson