Fall parking registration under way online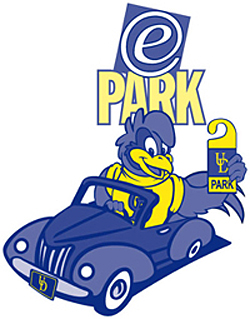 9:14 a.m., April 8, 2008--UD students and employees now can register for parking online for the 2008-09 academic year by visiting [
www.udel.edu/permits
].
After reading the registration information, use the express link at the bottom of the page to begin by logging in and following the on-screen instructions.
Registering online:
Eliminates standing in line to purchase a permit;
Allows students to bill the fee to their student accounts if registration is done early; and
Assures the closest available parking at time of registration.
Students who plan to live on campus next year, do not need to know their residence hall assignments to register for a permit. Parking lots are assigned after housing assignments are completed.
Parking Services strongly encourages students living on campus to purchase permits for the FULL ACADEMIC YEAR to retain the closest lots and be placed in the queue for even closer lots as they become available. Lot availability is limited by the time of spring registration, with most new lot assignments being issued for lots 1 and 88, near the Delaware Field House.
New this year
Commuter academic year red and gold permits--These permits are valid from September through May 31. They are more cost-effective than purchasing shorter-term permits and less expensive than annual permits.
Center for the Arts (CFA) Garage gate permit for commuters and miscellaneous wage employees--All commuting students living outside the University perimeter and all nonstudent miscellaneous wage/part-time employees are eligible for this gate permit. It is valid from 7 a.m.-6 p.m. daily in the CFA garage. Students also may park in any unrestricted lot with this permit after 4 p.m. and on weekends. Nonstudent employees also may park in any unrestricted lot with this permit at all times. This permit expires at the end of May.
Hangtag permits with no vehicle registration necessary--It is no longer necessary to enter vehicle information to purchase a permit. Except for motorcycle permits, permits will be hangtags. Permits will be registered to the customer rather than the vehicle. All citations issued on that permit will be the permit holder's responsibility.