UD launches carbon 'footprint' study, unveils new Web site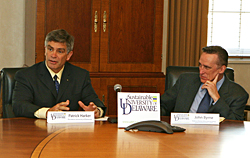 5:27 p.m., April 10, 2008--The University of Delaware will conduct a study of its carbon "footprint," the beginning of a new commitment to sustainability on the campus, which includes a new Web site on the topic, UD President Patrick Harker announced on Thursday, April 10.
The study, which will be led by John Byrne, director of the University's Center for Energy and Environmental Policy and recent Nobel Peace Prize laureate as a member of the Intergovernmental Panel on Climate Change, will be conducted amid an impressive amount of research being conducted at the University on issues related to sustainability.
"This inventory of greenhouse gas emissions will give us a good picture of where we stand currently and enable us to better plan what we should be doing in the future," Harker said during a news conference. "Special attention will be paid to follow-up actions that could showcase the University's leadership in research, technological innovation and policy creativity."
Harker also announced that the Class of 2008 has chosen to support the new project with its senior class gift. Last year, the class of 2007 collected $62,000 to establish the Class of 2007 Recycling Fund to support and enhance recycling efforts on campus.
"Your gift will indeed be a legacy," Harker said, "providing for the future of the University and of those students who follow you on our campus."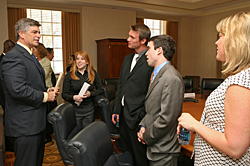 Members of the Senior Class Committee said students were very supportive of the idea of funding a green initiative with this year's gift. Committee member Lauren Schenkel noted that this project will not only give back to the University community but to the greater Newark community as well.
Contributions to the Senior Class Gift may be made online at [www.udel.edu/seniorclass].
The new Web site, which can be found at [www.udel.edu/sustainability], gathers together in one place many of the activities that are already under way at UD and also provides information on current research that addresses these topics.
The Web site is the outgrowth of the work of the Academic and Student Life Sustainability Task Force, chaired by Kathleen Kerr, director of residence life. Andrew Knab, a master's degree candidate, spearheaded the Web site effort, and Molly Chappell and Jeff Chase, art directors in the Office of Public Relations, designed and developed the site.
Article by Martin Mbugua
Photos by Kathy F. Atkinson