UD hotel recognized for guest satisfaction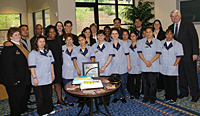 Once again, the Courtyard Newark-University of Delaware hotel's staff has been honored by Marriott Corp. for topnotch guest satisfaction ratings.
4:25 p.m., Sept. 20, 2006--The Courtyard Newark-University of Delaware hotel's guest satisfaction survey score for January-June 2006 was 92.4 percent, earning it the Platinum Award from Marriott Guest Services.
"This is outstanding recognition for our staff and students. Last year, we received the Gold Award for the same period based on a score of 89.5 percent, so, we have moved the level of customer satisfaction even higher," Bill Sullivan, managing director of the hotel, said.
Marriott Corp. sends satisfaction surveys to up to 50 percent of its guests, and The Courtyard-Newark has consistently been in the top 5 percent of the properties surveyed even though the Newark hotel is only in its second year of operation.
Sullivan said the survey asks guests if they would return to the Courtyard-Newark, if the staff made the them feel welcome, if the guest was treated as a valued customer, if the room was clean and fresh and the staff attentive to their needs. He said they consistently place high in all areas.
"This is an extreme honor for our staff. It's about what they do every day, and it's an indication of the quality of the people we have," Sullivan said. The honor also reflects well on the students in the hotel, restaurant and institutional management program who are working, training and learning at the hotel, he said.
"We want students to learn the very best way of treating guests, and if they are working with my staff, they are learning the right way of doing things," Sullivan said. "They can see the results of the high standards we set and will take that knowledge with them when they become responsible for running a facility."
Article by Barbara Garrison
E-mail this article
Subscribe to UDaily
Subscribe to crime alert e-mail notification