UDaily is produced by the Office of Public Relations
150 South College Ave.
Newark, DE 19716-2701
(302) 831-2791

Author, activist Sister Souljah at UD Oct. 26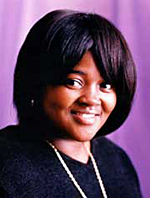 Sister Souljah
4:15 p.m., Oct. 16, 2006--Sister Souljah, hip-hop generation author, activist, recording artist and film producer, will speak at 7:30 p.m., Thursday, Oct. 26, in the Multi-purpose Rooms of the Trabant University Center. The public event is free although donations will be accepted. A book signing will follow.
Souljah is a graduate of Rutgers University, where she earned a degree in American history and African studies. She also attended Cornell University's Advanced Placement Studies Program and studied abroad at the University of Salamanca in Spain.
During her college years, Souljah traveled to England, France, Spain, Portugal, Finland and Russia. She worked in a medical center in Zimbabwe and assisted refugee children from Mozambique. Her travels in Africa also included visits to South Africa and Zambia.
Currently, Souljah is the executive director of Daddy's House Social Programs, the charitable wing of Bad Boy Entertainment, the East Coast record label founded by Sean "Diddy" Combs. She is the author of two national best sellers, The Coldest Winter Ever and No Disrespect.
Her UD appearance is sponsored by the Cultural Programming Advisory Board. For more information, visit [http://copland.udel.edu/stu-org/cpab/index.html] or call (302) 831-2991.
E-mail this article
Subscribe to UDaily