Rwandan prof says 1994 killings were not genocide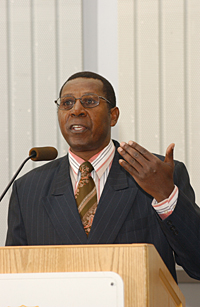 Leopold Munyakazi
6:12 p.m., Oct. 25, 2006--A professor of linguistics from Rwanda said the massacre of nearly 1 million people in that country 12 years ago was not ethnic-driven genocide but civil war rooted in decades of social class conflicts. Leopold Munyakazi, a visiting scholar and assistant professor of French at Montclair State University in New Jersey who sought refuge in the U.S. two years ago out of fear for his life, spoke during a faculty forum at the University of Delaware on Wednesday, Oct. 25.
"There is a kind of international conspiracy to hide the truth about what happened," Munyakazi said of the 100-day slaughter that began on April 6, 1994, soon after a plane carrying Rwandan President Juvenal Habyarimana and Burundian President Cyprien Ntaryamira was shot down as it was about to land in the capital, Kigali. "I refer to it as civil war, not genocide; it was about political power.... Ethnicity is not really understood about Rwanda; in Rwanda there are no tribes, there are social groups, they are one single people."
Munyakazi dismissed the version of events given by hotelier Paul Rusesabagina, whose heroics that saved hundreds of lives were featured in Philip Gourevitch's book, We Wish to Inform You That Tomorrow We Will be Killed With Our Families: Stories from Rwanda, and inspired the Oscar-nominated film Hotel Rwanda. Munyakazi said Rusesabagina had chosen to support the one-sided "official narrative."
"It is quite wrong to say that genocide was committed by Hutus," Munyakazi, who said he was among moderates who opposed violence, said. "I kept hiding from place to place in Rwanda because I did not want to join any fighting party. I had the same attitude as Mr. Rusesabagina."
Munyakazi said civil strife in Rwanda can be traced back to the 1920s when Belgian colonial rulers issued identification cards with a notation of Tutsi, Hutu or Twa, based on their social class. The Tutsi, he said, were the elites, while the Hutus were the middle class and the Twa were the low, poor class.
The linguist, who speaks French, Kinyarwanda, English and Swahili, said that a social revolution in 1959 shifted the balance of power and led to many Tutsis fleeing the country. The exiles and their supporters, he said, regrouped both at home and abroad over the years and eventually supported a rebel invasion that fueled the massacres in 1994.
Munyakazi said he left his job as professor of linguistics at a northern campus of National University of Rwanda in 1992 because people from the southern part of the country were not welcome there. He was working in Kigali as executive secretary general of a federation of Rwandan unions when the bloodshed began. Munyakazi said militias destroyed his home, and he was later arrested and kept in jail for five years without any charges.
After his release in 1999, Munyakazi taught French at the Kigali Institute of Education until 2004, when he attended the 11th World Congress of Teachers of French in Atlanta and chose to remain in the U.S. out of fear that he would be arrested upon his return to Rwanda. A colleague at the conference, he said, warned him that he would have to answer for his presentation, which appeared to contradict the government. Worse, his wife informed him that he faced arrest upon his return home because he was on a list of 500 "divisionists" that had just been released by the Rwanda government.
Munyakazi said his presentation at UD had drawn objection from the Rwanda Embassy in Washington, D.C. The UD provost's office confirmed that such an objection was received and responded to.
"I would prefer to have the people from the embassy come and sit with you and listen to me," Munyakazi, who also challenged any person with opposing views to a public debate, said. "They are accusing me, but they don't talk officially in the open when they are accusing me of something so serious. It's not fair.... I am still being threatened."
Munyakazi's wife recently joined him, but three of their children are still in Rwanda while two older children are seeking asylum in France. He taught French at a Pennsylvania high school before he joined Montclair State University on a one-year appointment through a grant from the Scholars at Risk Network (SAR), a growing international network of more than 100 universities and colleges that works to promote academic freedom and assist scholars experiencing threats in their home countries, primarily by arranging temporary positions for these individuals at network universities and colleges.
Speaking at the forum, which was sponsored by the Office of the Provost and the local chapter of the American Association of University Professors (AAUP), Robert Quinn, director of SAR, said Munyakazi is "an example of the numerous, deeply courageous scholars we have been able to meet in our network."
Gerald Turkel, immediate past president of AAUP at UD, said the well-attended forum showed the continued interest among faculty and administrators in issues of academic freedom in an international context.
"The main concern is not deciding who is right or wrong on any particular issue, rather that we value discussion, we value academic freedom, where issues can be discussed without the threat of intimidation, without reprisal," Turkel said.
Editor's note: Munyakazi approved the use of his name and photograph for this article.
Article by Martin Mbugua
Photos by Duane Perry
E-mail this article
Subscribe to UDaily
Subscribe to crime alert e-mail notification