UDaily is produced by the Office of Public Relations
150 South College Ave.
Newark, DE 19716-2701
(302) 831-2791

Delaware men's soccer defeats Georgia State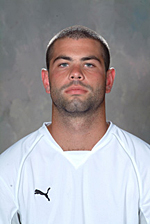 UD's Anthony Talarico scored two goals in the victory over Georgia State.
9:08 a.m., Oct. 16, 2006--Snapping a three-game losing streak, the University of Delaware men's soccer team defeated Georgia State University 3-1 in a Colonial Athletic Association match played Sunday afternoon at the Delaware Mini-Stadium.
The Fightin' Blue Hens are now 5-6-2 overall and 3-5 in the conference as they prepare to travel to Northeastern University for a CAA match on Friday evening. The Hens will return home to face Hofstra University at 2 p.m., Sunday, at the Delaware Mini-Stadium. Northeastern is 5-9-2 overall and 3-4-1 in the conference and Hofstra is 8-4-2 overall and 5-2-1 in the conference.
In Sunday's victory over Georgia State, UD got a pair of goals from senior co-captain Anthony Talarico and one from junior Sobhan Tadjalli. After a scoreless first half, the Hens fell behind 1-0 early in the second before Tadjalli tied the game with his eighth goal of the season off an assist by Tal Blau. Talarico then put the game away on goals off assists from Tadjalli and Michael Bratus. UD goalkeeper Jonathan Curry-Edwards had eight saves.
On Friday, the Hens fell 2-1 to the University of North Carolina Wilmington at the Delaware Mini-Stadium. Tadjalli scored to give UD the early lead, but UNCW battled back for the win. Curry-Edwards had four saves.
E-mail this article
Subscribe to UDaily