Collection of faculty books unveiled at UD hotel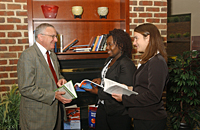 Provost Dan Rich (left) checks out the new collection of books authored by UD faculty assembled by HRIM seniors Devone Coleman (center) and Cindy McClenahan. The books are displayed in the hotel lobby for guests to peruse.
4:35 p.m., Oct. 19, 2006--A new library featuring books by UD faculty was inaugurated at a morning ceremony held Wednesday, Oct. 18, in the lobby of the Courtyard Newark-University of Delaware hotel.
Initiated by William Sullivan, managing director of the hotel and a faculty member in UD's Department of Hotel, Restaurant and Institutional Management (HRIM), the faculty library was assembled with help from Devone Coleman and Cindy McClenahan, HRIM seniors, and currently holds 48 books by UD faculty on a range of topics.
Holdings include both text and trade books, and the purpose of the library, Sullivan said, is to serve both guests of the hotel and members of the University community.
"Provost Daniel Rich suggested this as a way to show guests of the hotel the broad range of talents of our University faculty," Sullivan said. "I can guarantee you that there is no other hotel in the world that has this, and it is our hope that it will not only serve the needs of guests, but that it also will inspire more publications from our faculty, as well."
Rich, who attended the ceremony, also addressed this wish. "This [library] is inspiration for writing books," he said.
UD authors present at the unveiling included Lois Potter, Ned Allen Professor of English; Deborah Andrews, professor of English; Donald C. Lehman, assistant professor of medical technology; Albert Dennis Kirwan Jr., Mary A. S. Lighthipe Chair in the College of Marine and Earth Studies; and Stanley Weintraub, adjunct professor of English.
"My focus is on management communication, and it's my impression that this hotel gets a lot of business travelers," Andrews said, "so for me, this is a very good audience."
Weintraub, who donated two of his books to the library, said that he was likewise glad for the opportunity for the exposure that the library affords. "English departments teach writing," he said, "and writing is communication. Communication is sharing ideas with others, and this is a good way to do that. I want my books to be read."
Article by Becca Hutchinson
Photo by Duane Perry
E-mail this article
Subscribe to UDaily
Subscribe to crime alert e-mail notification