Cybersecurity Awareness: Social Networking Sites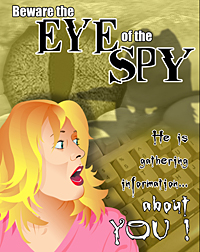 Copyright 2006, the Trustees of Indiana University
Editor's note: This the third in a series of articles in observance of National Cybersecurity Awareness Month.
1:52 p.m., Oct. 16, 2006--During National Cybersecurity Awareness Month, the University's Office of Information Technologies (IT) asks members of the University community to examine their computing practices and to take steps to protect their computers and their information.
"This week, we're urging anyone who publishes an online journal--a blog--or who uses social networking web sites like Facebook or MySpace to think carefully about how they participate in those activities," said Carol Anderer, associate director of IT-User Services.
"Social sites like Facebook and MySpace are a lot of fun for the students and are great at helping students network with others with similar interests," Marilyn Prime, director, Student Centers, said. "But we do have some concerns about some of the behavior we see when students use these sites."
According to Ron Nichols, manager in IT-User Services, this week's Cybersecurity video reminds students to be careful when using social networking sites [www.udel.edu/ncam]. "We remind people not to share too much information, to remember that sometimes people you didn't intend to share information with can see what you put on line."
Prime said, "What you post on the web, stays on the web. Even The New York Times has reported cases of students who have lost job offers or fellowships because of inappropriate material they'd posted in Facebook or other social sites.
"Think about it for a minute," she continued. "If a resident assistant is supposed to help other students abide by the University's rules, do you think that the University is going to offer an assistantship to a 20-year-old student whose Facebook page features his spring break drinking exploits?"
Prime said that another issue is time management. "Some students log into Facebook 'for a minute,' then suddenly realize they've just used up three hours of 'study time.'"
But the most important issue is student safety. Since one never knows who will be looking at a MySpace or Facebook page, Prime urges UD students to pay attention to the privacy settings in any social networking web site that they join. "Use common sense and only allow people you choose to see your contact information."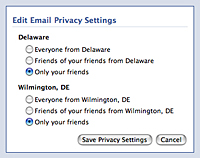 On Facebook and other social networking sites, IT-User Services advises students to share private information with "Only your friends."

According to Anderer, the privacy settings are very easy to set up. "For example, in Facebook, there are links labeled 'Edit Privacy' next to the text boxes in which you might enter private information. We'd urge students to choose to share private information with 'Only your friends.'"

"The University recognizes that social networking sites work well for finding people who like the same things you do or announcing an event like a Sunday afternoon pick-up soccer game," Anderer said. "But students need to be aware that publishing information to these sites can raise important privacy and safety issues."

For more information, visit:

IT-Help Center's Cybersecurity Awareness Calendar [www.udel.edu/security/october.html]

UD's Cybersecurity Awareness Videos
[www.udel.edu/ncam]

UD's Computer Security News and Alerts [www.udel.edu/security/secnews.html]

October is National Cybersecurity Awareness Month
[www.udel.edu/PR/UDaily/2007/oct/security100206.html]

Computer Security at UD
[www.udel.edu/security]

UD's IT-Help Center
[www.udel.edu/help]

National Cyber Security Alliance
[www.staysafeonline.org]
E-mail this article
Subscribe to UDaily
Subscribe to crime alert e-mail notification