Junior wins prestigious science award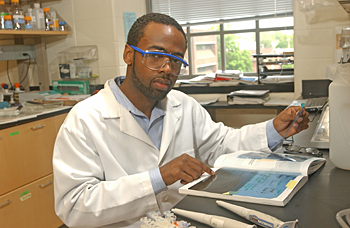 5:27 p.m., May 21, 2007--Junior Charles Drummer IV has won the United Negro College Fund (UNCF)-Merck Undergraduate Science Research Scholarship Award for 2007-08. The award consists of $25,000 for tuition and two summer internship stipends totaling $10,000. The UNCF-Merck program is designed to increase the number of African-Americans in the pipeline of biomedical science education and research. Fifteen awards are given out nationally each year.
Drummer will participate in two summer programs in Boston, working more than 40 hours a week on background research, techniques and presentations. "The program will expose me to different sets of research skills," Drummer said. "It's definitely going to be an excellent networking opportunity for possible future collaborations or even future employment. It's going to benefit both my career goals and my academics."
Drummer said he received the good news with a late-night call in March. "I was pretty ecstatic that night," he said. "My parents were really happy."
The Merck award is not Drummer's first. He won first place in his research poster session category at the Annual Biomedical Research Conference for Minority Students (ABRCMS) held in November in Anaheim, Calif.
Drummer is a member of Howard Hughes Medical Institute (HHMI) Network of Undergraduate Collaborative Learning Experiences for Underrepresented Scholars (NUCLEUS). The NUCLEUS program assists academically talented and underrepresented students majoring in the sciences in entering into graduate and professional school programs and science-related professions. The program is a component of HHMI Undergraduate Science Education Program.
Jacqueline Aldridge, coordinator for the HHMI NUCLEUS and National Institutes of Health (NIH) Bridges Programs at UD, said Drummer is the first UD undergraduate to receive the award. "I think that's pretty substantial for the history of the University of Delaware, let alone the biological sciences department," Aldridge said. "It's also a positive and a motivating factor to use for other students. Now Merck will be looking. If another UD student applies for the award, they know the quality we are producing."
Carlton Cooper, assistant professor of biological sciences, said the award is a competitive both nationally and internationally. "I'm not surprised that a student like Drummer would get this award," he said. "This is a very, very competitive award. It carries a great deal of recognition and caliber."
Aldridge and Cooper first met Drummer at the NIH Bridges biotechnology summer camp at Delaware Technical and Community College in 2003. A junior in high school at the time, Drummer said he had begun looking at universities, but was eventually convinced to go to UD because of its strong undergraduate research program. As a freshman, Drummer joined the NUCLEUS program and began a biological sciences major, narrowing his focus to a concentration in cell molecular and genetics in his sophomore year.
During his sophomore year, Drummer also began working on the mechanisms of resistance in prostate cancer metastasis to bone in Cooper's research group. Drummer said the guidance of his NUCLEUS mentors helped him to navigate the University and identify his research interests. When Drummer joined the research group, he shadowed Freddie Pruitt, a master's student and former UD undergraduate and NUCLEUS member, learning different laboratory techniques and research skills.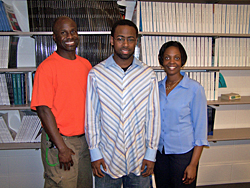 Cooper said he noticed Drummer was a leader at the camp and was impressed with the number of questions Drummer would ask. "Charles is very methodical," he said. "He's not into vague details; he likes to know what exactly the purpose of his work is. He is very inquisitive."
Drummer said his experience researching diabetes in the HHMI EXROP summer undergraduate research program at University of Pennsylvania last summer made him realize how much more he can complete during a summer program "You can just get so much more accomplished in concentrated summer internship," he said. "You learn a lot more than if you are trying to juggle classes and schoolwork in the school year."
Drummer said he wants to complete a senior thesis at UD and hopes the techniques he learns during the program will be applicable to his thesis research on prostate cancer. He hopes to pursue a M.D./Ph.D. degree in cancer.
While he enjoys his science classes, Drummer said undergraduate research brings his classroom material to life. "Undergraduate research just really illustrates the concepts you learn in class and for me it just affirmed that this is what I wanted to do," he said. "Some people don't necessarily like working in the lab because they think it moves too slow. For me, I like the process. I like coming in the lab and I like doing the techniques and I like having an idea in your mind and then following through with experiments and proving your hypothesis."
Drummer said he is very excited about the new opportunities he will have this summer. "I'm really interested in seeing what it is they have planned for me and see how well I can carry myself in the industry and the environment," he said. "I'd like to see the contrast between industry biology and academic biology. I'm also really looking forward to meeting other people my age and as well as people already in the field to share experiences and see what life for a biologist is like after you graduate."
Aldridge said Drummer's award reflects the strength of the undergraduate program at the University. "It's not only good for Charles in regards to his personal development and professional development but it's also good for the University as we continue to take undergraduate research efforts to the next level."
Article by Julia Parmley, AS '07