Students hone poster presentations before national conference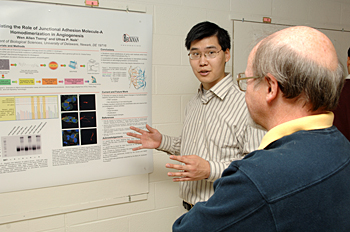 6:09 p.m., May 2, 2007--Justin DiAngelo, AS '02, remembers his poster presentation at the Experimental Biology Meeting in 2002. He won first place for his presentation on the protein Pop1, which is involved in heart defects.
"I think it was a really good experience because it was the first time I could talk to scientists outside our community here," DiAngelo said. "I think I got a lot of good feedback I wouldn't have gotten otherwise."
Taking a break from his doctoral work at the University of Pennsylvania, DiAngelo offered his own feedback to UD students April 11 in McKinly Lab as they prepared for the 2007 Experimental Biology Meeting in Washington, D.C.
The 15 UD students competed with poster presenters from colleges around the world at the conference, held April 28-May 2. The confab drew more than 12,000 scientists to the Washington Convention Center.
Hal White, director of UD's Howard Hughes Medical Institute Undergraduate Science Education Program, which provides travel funds for the participating students, said the poster session allowed the students to receive feedback in preparation for the conference.
"A lot of these students are going to be competing, and we want to give them experience in answering questions that are tough and learn how their posters can be more explanatory," White said. "Posters are very visual. You have to think about communicating differently with a poster than with a publication."
White gave students advice on issues such as rearranging text, making larger diagrams and color-coding subjects.
DiAngelo discussed with senior Vivek Desai how to answer tough questions about his poster, "CD44 and Posterior Capsular Opacification." "I just asked [Desai] questions that people might ask that he might not have thought of," DiAngelo said. "I got a lot of those when I was at the conference."
Desai, along with the other students, presented his poster both in front of judges and the entire conference, and said he planned to use DiAngelo's advice to prepare.
"I'll look up the answers to those questions and be ready for them," Desai said. "It will be the first time that I present my poster outside of UD. It will be interesting to meet other researchers and see their posters."
Senior Lindsay Higdon said she got suggestions about moving text around on her poster and organizing her information and has learned what will work the best on her poster, "The Effect of Bcl-2 on Apoptosis in the Developing Chick Brain." "If you're at any kind of conference, you want your poster to grab attention," Higdon said. "You want it to have bigger pictures. You want your title to be large. You want them to get the idea really quickly."
White said the University has had more conference prize-winners than any other university in the country for the past six years.
The students, all seniors, attending the conference are: Ashley Anttila, Caitlin Haag, Justin Moses, Aly Bourreza, Lindsay Higdon, Sarah Swain, Corrine Decker, James Kelleher, Allen Tseng, Vivek Desai, Patrick Knerr, Charles Drummer, Evan Lebois, Joseph Feng and Greg Madden.
Article by Julia Parmley AS '07
Photo by Kathy Atkinson