UD hotel director honored by his peers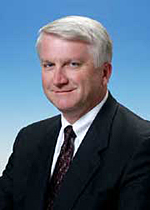 4:07 p.m., May 17, 2007--The national organization of Hospitality Financial and Technology Professionals (HFTP) has selected William Sullivan, managing director of the Courtyard Newark-University of Delaware hotel and the University Conference Centers, as one of the five recipients of its 2007 Hospitality Technology Award of Merit. The award is presented every five years to individuals who have made a significant innovation or breakthrough that established a path for others in hospitality technology.
HFTP is recognizing Sullivan for "his expertise in hospitality systems design and operations." The award, which is given to individuals whose contribution have longevity and have benefited all those who work in hospitality technology, will be presented at the 35th annual Hospitality Industry Technology Exposition and Conference on June 26 in Orlando, Fla. HFTP is the global professional association for financial and technology personnel working in hospitality-related businesses and has more than 4,600 members.
"I am so honored to receive this recognition, especially since the awards are given every five years, and this only is the second group to receive them," Sullivan said.
Sullivan, who throughout his career has implemented modern technology into business operations to improve service for hotel guests and other customers, also is designated as a certified hospitality technology professional by the organization.
Before coming to the Courtyard Newark-University of Delaware in 2004, Sullivan had a 31-year career with the DuPont Company, most of it in hospitality operations with periods of management responsibility for the Hotel duPont, the DuPont Country Club and what was then the Playhouse Theatre.
Sullivan, who received his degree in business from UD in 1974, also is an adjunct instructor at UD, teaching a hospitality practicum course and is a frequent speaker at industry educational conferences.
Article by Sue Moncure