Four arts and sciences faculty honored by college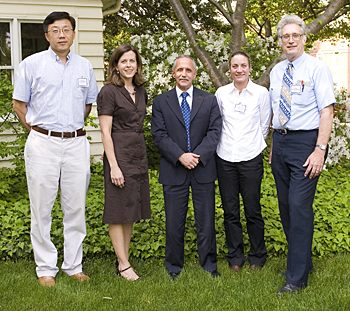 3:32 p.m., May 24, 2007--Each year the College of Arts and Sciences recognizes faculty members' outstanding contributions to the life of the University by giving awards in four categories: teaching, advisement, scholarship and service. Each recipient is awarded $1,000.
Annette Giesecke, associate professor of foreign languages and literatures, received the Outstanding Teaching Award. The award is based on student and peer evaluations, alumni testimonials, the number and range of courses offered, involvement in individual instruction, quality of advisement and mentoring, demonstrated commitment to student welfare and development and an acknowledged reputation in teaching.
Giesecke is a professor in UD's classics program, teaching courses in ancient Greek and Latin as well as Greek and Roman literature and civilization in translation. She chaired Ancient Greek and Roman Studies and currently serves as director of Undergraduate Studies.
Her research interests are Latin and Greek poetry, Greek and Roman art and architecture and Utopianism in ancient Greece and Rome. She is the author of The Epic City: Utopia and the Garden in Ancient Greece and Rome and Atoms, Ataraxy and Allusion: Cross-Generic Imitation of the De Rerum Natura in Early Augustan Poetry.

Giesecke received her bachelor's degree in classics at the University of California at Los Angeles and her doctorate at Harvard University. She taught at Victoria University in New Zealand for four years and then taught at both UCLA and Loyola Marymount University before coming to UD in 1998.
At the ceremony on Honors Day, May 4, Giesecke was cited for her "deep passion for her subject [that] is inspiring to her students and colleagues."
Beth Morling, assistant professor of psychology and director of undergraduate advisement for the department, received the Outstanding Advisement Award, based on excellence in academic advisement of undergraduate students, including the number of student advisees, the quality of advisement, availability, communication, knowledge of college programs and overall impact on students through advising.
Morling's research is in social psychology and focuses on how culture shapes choices. She and a colleague were recently awarded a fellowship from the UD Center for International Studies to conduct a cross-cultural study involving students at Delaware and students at Warsaw University in Poland.
Morling is a graduate of Carleton College and has a master's degree and doctorate from the University of Massachusetts at Amherst. She joined the UD faculty in 2003.
At the awards ceremony, Morling was cited for "transforming advising in the psychology department" by revamping the web site to provide information and tools for students. It was noted that "her outstanding work has been praised by students, faculty, staff, members of the dean's office and external reviewers."
John Xiao, professor of physics and astronomy and director and a principal investigator of UD's new Center for Spintronics and Biodetection, received the Outstanding Scholar Award, based on publications, professional honors, receipt of competititive grants, scholarly contributions and an acknowledged reputation in scholarship.
The new center Xiao directs received a Department of Energy (DOE) grant of $1.9 million to study "spintronics," which focuses on harnessing the magnetic properties of electrons to encode and process data. The research is aimed at developing smaller, faster, energy-saving devices from medical diagnostic equipment to environmental sensors.
A graduate of Nanjing University in China, Xiao received his doctorate from Johns Hopkins University and joined the UD faculty in 1995.
At the awards ceremony, it was noted that Xiao "has demonstrated excellence in scholarly research and has significantly promoted the reputation of the Department of Physics and Astronomy in the magnetic materials research community." Xaio has published prolifically and been awarded $3.1 million in research grants. He also has worked to promote collaboration between Nanjing University and UD.
Harold White, professor of chemistry and biochemistry and director of the Howard Hughes Medical Institute's (HHMI) Undergraduate Science Education Program at UD, received the Outstanding Service Award, based on extraordinary service within the college, University, academic profession and larger community.
His research focuses on vitamin-binding proteins, intermediary metabolism and biochemical evolution. He also focuses on undergraduate education, specifically Problem-Based Learning (PBL), and has conducted numerous workshops and written several articles in the field. He received the college's Outstanding Teaching Award in 2005.
White is a graduate of Pennsylvania State University, received his doctorate from Brandeis University and did postdoctoral research at Harvard University before joining the UD faculty in 1971.
White was cited for contributing "significantly to enhance undergraduate research experiences for students" and as director of HHMI providing a "framework for advancing students from underrepresented groups into biomedical sciences through the NUCLEUS (Network of Undergraduate Collaborative Learning Experiences for Underrepresented Scholars) program." His stewardship of the HHMI program has resulted in three grants totaling $4.8 million.
Article by Sue Moncure
Photo by Kevin Quinlan