Mark J. Miller wins UD's Francis Alison Award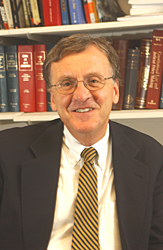 8:53 a.m., May 10, 2007--Mark J. Miller, Emma Smith Morris Professor of Political Science and International Relations, has been named the 2007 recipient of the Francis Alison Award, the University's highest faculty honor. Established in 1978 by the Board of Trustees, the Alison Award recognizes the scholarship, professional achievements and dedication of the UD faculty.
Miller's research has focused on international migration issues, which have received increasing attention in today's world.
Miller said he was delighted and honored to receive the Alison Award.
"Mark Miller's outstanding scholarship, teaching, writing and international reputation as an expert on immigration issues exemplify the qualities represented by the Francis Alison Award," President David P. Roselle said. "He is well deserving of this recognition for his many contributions here and abroad."
Provost Dan Rich, who announced the award at the Named Professors Dinner on May 9, said, "Mark Miller has had a distinguished career as a scholar and teacher. He is recognized internationally for his research on international immigration. He also is a frequent consultant to international organizations on a wide range of immigration issues. His contributions as a UD faculty member for three decades have earned the respect of his colleagues and the appreciation of his many students."
Miller said he learned about the issues of immigrants and guest workers firsthand because he was one. For three summers, he worked in France doing manual work with masons and other laborers in the Maritime Alps north of Nice, becoming good friends with his coworkers.
"My junior year at the University of Wisconsin was a crucible year for me," he said. "I had a full scholarship to France at Aix-en-Provence, and then I returned every summer to work." He became what he called a "francofou," meaning he was crazy about France. He said he felt he came full circle when he returned to France to teach as a visiting professor at the Institut d'Etudes Politiques de Lyon in 2005.
Immigration was an "esoteric topic," in those early days, Miller said, and did not attract much attention when he was in graduate school at the University of Wisconsin, where he received bachelor's, master's and doctoral degrees. He received a scholarship from the French government for research on immigrant political participation in Western Europe at L'Ecole des Hautes Etudes en Sciences Sociales in Paris, writing his dissertation on foreign worker participation and representation in France, Switzerland and Germany.
"I did a historical overview of migration and guest workers, and what I discovered was that the system was not working out as planned and anticipated. Instead of leaving, many workers formed settlements in their adopted countries and were becoming a political force," Miller said.
His research attracted attention and he was asked to discuss his findings with a Justice Department task force on illegal Mexican immigration in 1977. That was the first of many such sessions during his career, testifying before Congress and several U.S. commissions, consulting with the U.S. departments of State and Labor, the International Labor Organization and the United Nations.
Thirty years later, the debate has changed, and immigration has become a political issue, Miller said, with an estimated 12-14 million illegal immigrants in the United States. He considers himself a centrist on immigration issues, and much of his current research concerns the use of sanctions against companies that hire illegal immigrants. Among the measures he recommends is counterfeit-resistant documentation to prove eligibility and requiring companies to maintain records.
"Migration, radical minorities and their integration or lack of it into society and security are major concerns facing developed countries," Miller said. "Populations are becoming increasingly diverse, and events, like immigrant marches in the United States, underscore the significance of migration."
Joining the UD faculty in 1978, Miller has been sought out by government and other organizations for his expertise. Among his many activities, in 2006, he served as a consultant to the United Nations and as codirector of the Fulbright Institute on U.S. national security and foreign policy from 2003-2005. He was a member of the Center for Strategic and International Studies Steering Group on population and U.S. foreign policy in 1993 and has been a lecturer for the U.S. Department of State and has presented a series of lectures in Mexico, from 1991 to the present.
He has written more than 100 articles, chapters and monographs on immigration and served as editor of the International Migration Review, the leading and influential scholarly journal in the field and written two commissioned monographs for the Commission on Immigration Reform.
Miller is the author or coauthor of The War on Terror in Comparative Perspective; Foreign Workers in Western Europe: An Emerging Political Force; The Unavoidable Issue: United States Immigration Policy in the 1980s; Administering Foreign Worker Programs: Lessons from Europe; and The Age of Migration, which is in its third edition and has been translated into Japanese and Spanish.
Article by Sue Moncure
Photo by Duane Perry