UDaily is produced by the Office of Public Relations
The Academy Building,
105 East Main St.
Newark, DE 19716-2701
(302) 831-2791

Prof to tape special on Pennsylvania poets
4:34 p.m., March 19, 2007--UD professor and poet Jeanne Murray Walker will be part of a special television program, "Pennsylvania Poets," being taped before a live studio audience at 5:30 p.m., Thursday, March 29, at WHYY-TV's Civic Space, 150 North Sixth St., Philadelphia. The program showcases the work of Walker and two other poets who will read from works inspired by Pennsylvania.
Discussion and audience interaction will be part of the program. Persons interested in attending the taping may make reservations by calling (215) 351-0511 or by going to [www.whyy.org/artsandculture/index.html] and clicking on the r.v.s.p. link.
The taping is part of the series Humanities Live, sponsored by WHYY and the Pennsylvania Humanities Council, and hosted by Tracey Matisak. In this episode, Walker and poets Trapeta Mayson and Jim Daniels will read and discuss their works and the works of other poets who will appear on in videotaped segments. The poets will lead the audience in an improvised writing exercise helping them to develop images and transfer them into poems.
"The other poets and I will think about how Pennsylvania has developed its rich tradition of poetry in various regions like the coal mining area, farm country--including Mennonite and Amish--and cities like Pittsburgh and Philadelphia. We may talk about the conflict between poets who write carefully crafted poems for publication and poets who do slams. We'll show clips of kids reading and writing poetry in schools. We'll also be reading our own poems and leading the audience in the creative exercise," Walker said.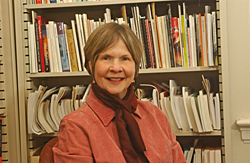 Jeanne Murray Walker

The tape will be edited down to 50 minutes and will be shown on television and web cast. It also will be available for use in
in classrooms, and in other venues.

Walker, who recently read her poetry at the Library of Congress, is a Commonwealth Speaker for the Pennsylvania Humanities Council, traveling the state to speak about poetry in libraries, galleries, museums, churches and other venues.

A former Pew and National Endowment for the Arts fellow, Walker has published six poetry collections and been featured in hundreds of anthologies and journals, including American Poetry Review and The Nation. Walker also is a playwright whose work has been produced in the United States and London.

She currently teaches poetry and scriptwriting at UD and was recently honored for her nonfiction prose when she received her seventh Pennsylvania Council on the Arts Fellowship in honor of an essay she wrote last summer on a General University Reseach grant from UD.

For more information about Walker, visit her web site at [www.english.udel.edu/Profiles/walker.htm]; for more information about Humanities Live, visit [www.pahumanities.org/projects/live.php">www.pahumanities.org/projects/live.php] and
for more information about the Pennsylvania Humanities Council, visit [www.pahumanities.org/].
Article by Beth Thomas
Photo by Kathy Atkinson
E-mail this article
Subscribe to UDaily