UD student is skating double in 'Blades of Glory'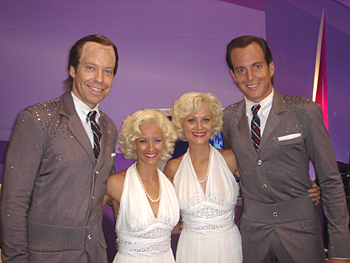 12:38 p.m., March 28, 2007--Former Olympian Tiffany Scott, a senior applied nutrition major and coach of the UD intercollegiate skating team, has traveled to Los Angeles for the premier of
Blades of Glory
, a figure skating comedy in which she appears as the stand-in for actress Amy Poehler.
In the movie, rival figure skaters Chazz Michael Michaels (Will Ferrell) and Jimmy MacElroy (Jon Heder) get involved in an embarrassing, no-holds-barred fight at the World Championships. They are stripped of their gold medals and banned from the sport for life. Now, three-and-a-half years on, they have found a loophole that will allow them to compete: if they can put aside their differences, they can skate together--in pairs' figure skating.
Blades of Glory opens in theatres March 30 and Scott has planned a special fundraising screening at 10 a.m., Saturday, March 31, at the Regal Cinemas at People's Plaza in Glasgow. All proceeds from the screening will benefit the UD intercollegiate skating team. Tickets cost $13 and must be reserved by 11 a.m., Friday, March 30, by sending an e-mail to [sk8rmonkie@aol.com] or calling (302) 369-9438.
"We've changed the whole way in which we operate; we've become more serious and added a lot of practice and that has increased the expenses," Scott said. "It's definitely paying off, and we are hoping to go to the collegiate championships at Dartmouth College in New Hampshire in April to shake things up and maybe come back with a national title."
Scott, of Wilmington, who skates with Patrick Hancock for Poehler and Will Arnett, respectively, said her role in the movie, which makes her eligible to join the Screen Actors Guild, has opened a lot of new acting possibilities for her following her retirement from competitive figure skating in May 2006.
"I had accomplished everything I wanted to," Scott, who was on the 2002 U.S. Olympic figure skating team and won the pairs title with Philip Dulebohn at the 2003 U.S. Figure Skating Championships, said.
"I was actually going to compete at the U.S. Figure Skating Championships in January [2006] when I got a call saying that I look like the actress and asking whether I could be the double. I went to Los Angeles, and they took a bunch of measurements and there it is," Scott said.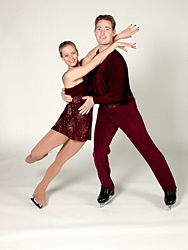 Scott said that she learned a lot about the "whole new world" of filmmaking during the seven weeks that she spent in Los Angeles as the film was shot. The directors and actors were friendly and helpful, she said.
"Amy Poehler got me tickets to go watch her on 'Saturday Night Live' a few weeks ago," Scott said. "It's nice to have such connections with people who are really big stars, but in real life they are just simple, nice people."
Scott said it is possible to tell when she is the one in the picture by the way she skates and that she did most of the skating in the film with Poehler's face expertly superimposed on her using green screen techniques.
Scott, who is expecting to graduate next year, said that even if she pursues more acting, she plans to remain in Delaware and start having children after her husband, Brian Pryor, completes his medical studies at the Philadelphia College of Osteopathic Medicine and further studies in surgery.
Article by Martin Mbugua