UD student team wins award at robot competition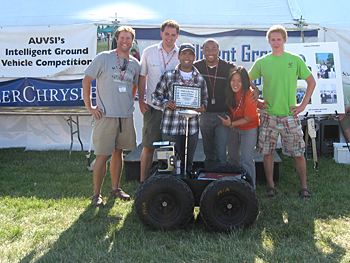 3:26 p.m., June 29, 2007--A team of five University of Delaware graduate and undergraduate students and their robot, "Warthog," won the rookie of the year award during the 15th annual Intelligent Ground Vehicle Competition (IGVC) held June 8-11 in Detroit. It was UD's first appearance at the event, which offers cutting-edge design experience for engineering students.
Warthog, based on a rugged four-wheel platform manufactured by Segway Inc., is equipped with a laser range finder, a color camera and differential global positioning system (GPS).
The robot was built by team of 15 students, who were advised by Christopher Rasmussen, assistant professor of computer and information sciences. The team also programmed the robot to meet two separate challenges involving autonomous obstacle avoidance and navigation in an outdoor environment.
"We only finished building the robot a little more than a month before the contest--much later than we had planned," Rasmussen said. "Unfortunately, within the first few days of outdoor testing in late April, the motors had a major breakdown, and as soon as they were repaired by Segway, they broke again with only 10 days to go. It took a lot of toil and luck to even make it to Detroit with a functioning robot, so I'm very gratified by our results."
Five of the students--Sherol Chen, a graduate student in the Department of Computer and Information Sciences; Amit Hetawal, a graduate student in the Department of Computer and Information Sciences; Ezra Kissel, a doctoral candidate in the Department of Computer and Information Sciences; Donald Scott, a senior computer and information sciences major; and Patrick Griffith, a junior engineering major--represented UD at the competition, gave an oral design presentation to judges and shepherded the robot through a safety inspection to qualify it for the main competition.
"The students worked hard throughout the semester, and they really came through in the last week when we thought all might be lost," Rasmussen said. "Seeing Warthog managing to navigate around barrels and fences in the contest just days after being a pile of parts on the lab floor was a great moment. We learned a lot at the competition, and now that the robot's working we will be a team to reckon with next year."
The competition, which this year drew teams from nearly 40 institutions, including Virginia Tech, Georgia Tech, the University of Texas and the University of Minnesota, was a major learning experience for Griffith.
"Just being there taught me a lot personally, so much so that I think we will be a legitimate threat to win it next year. We had to deal with several hardware issues that severely changed our approach, but we were still able to make a successful appearance that earned us the rookie of the year award," Griffith said.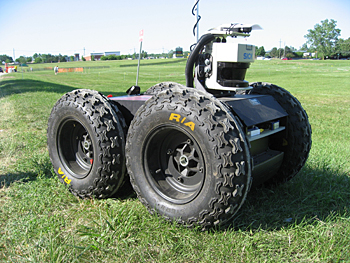 "It was interesting seeing our project come together," Chen said. "It was definitely worthwhile to see how such large projects are managed. Once we got to Michigan, I found the competing teams to be very collegial. The professionals running the competition were supportive, encouraging and eager to lead the cutting edge of robotics."
Scott said the competition was an opportunity for the students to see all of their ideas at work in a practical application and an experience that is almost impossible to gain in the classroom alone.
"It was a chance to work together with my teammates and faculty adviser toward a common objective and to compare our work to that of other teams from many other universities," Scott said. "It was an invaluable learning experience. I became familiar with so many new and useful algorithms and software systems. Consequently, I am now more than ever excited about doing similar research in graduate school."
"Warthog will rest a bit this summer before beginning preparations for next year's IGVC, for which it figures to be among the top contenders," Rasmussen said.
For more information about the competition, visit [www.igvc.org].
Article by Martin Mbugua