UDaily is produced by the Office of Public Relations
150 South College Ave.
Newark, DE 19716-2701
(302) 831-2791

'Visionary Anatomies' exhibition coming to UD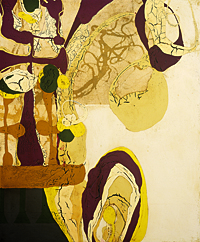 Katherine Sherwood, 'Unfathomable Logic,' 2003, mixed media on canvas, 62" x 51"
3:21 p.m., July 26, 2006--A traveling exhibition coming to the UD campus this fall will showcase contemporary works in which the artists were inspired by images of human anatomy to express aesthetic, social and cultural ideas.
"Visionary Anatomies," created by the National Academy of Sciences and organized for travel by the Smithsonian Institution Traveling Exhibition Service, will be on view in the University Museums' Old College gallery from Sept. 19-Dec. 10. An opening reception and talk by curator J.D. Talasek, a University alumnus, will be held Sept. 20.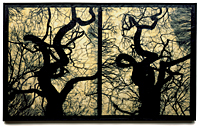 Mike and Doug Starn, 'Blot out the Sun #1,' 1998-1999, mixed media, 48" x 78"

The exhibition features the work of 11 artists who incorporate modern medical imaging into their work. The 18 works in the exhibition, which take such scientific images as X-rays and angiograms as their starting points, include photographs, paintings and mixed-media pieces.

Many of the pieces use an X-ray or other technical image and manipulate or recreate it to convey a personal statement. Some works create optical illusions, and some are inspired by the artists' own illnesses. For example, a painting by Katherine Sherwood, Unfathomable Logic, merges lithographic renderings of her own post-stroke angiograms with healing symbols from a 17th-Century sorcery book.

Another piece in the exhibition, Blot out the Sun #1, by Mike and Doug Starn, uses traditional photography and digital printing to compare the similar patterns of twisting tree branches with the complex patterns of neural synapses.

"The exploration of anatomical images, the diversity of their meaning and interpretation, is the focus of this exhibition," Talasek has written. "The histories of medicine, art and technology are tightly intertwined, each discipline sharing the purpose of explaining and improving the world around and--in the case of this exhibition's subject matter--within us. A study of the intersection between these three disciplines at the point of anatomical representation reveals a complex and contributory relationship."

Besides Sherwood and the Starns, the exhibition features works by several other artists, including Stefanie Bürkle, Katherine Du Tiel, Tatiana Garmendia, Joy Garnett, Connie Imboden, Predrag Pajdic, Frederick Sommer, Richard Yarde, Ellen Sandor, Keith Miller, Janine Fron and Jack Ludden.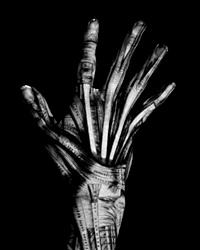 Katherine Du Tiel, 'Muscle Hand,' 1994, silver gelatin print, 40" x 30"

"Visionary Anatomies" will be exhibited in the University Gallery in Old College, at Main Street and North College Avenue. The gallery is open 11 a.m.-4 p.m. Tuesdays, Thursdays and Fridays; 11 a.m.-8 p.m. Wednesdays; and 1-4 p.m. Saturdays and Sundays. It is closed on Mondays and University holidays. Admission is free.

The Wednesday, Sept. 20, event will begin at 5 p.m., with a talk by Talasek, who earned his master of fine arts degree from UD in 2001 and is director of exhibitions and cultural programs at the National Academy of Sciences. A reception will follow.

For more information about the University Museums, visit the web site [www.udel.edu/museums] or call (302) 831-8037.
E-mail this article
Subscribe to UDaily