UDaily is produced by the Office of Public Relations
150 South College Ave.
Newark, DE 19716-2701
(302) 831-2791

UD awarded Imagining America exchange grant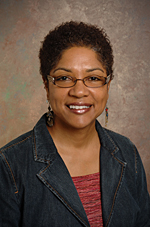 Colette Gaiter, associate professor of art
5:02 p.m., Feb. 8, 2007--UD's Department of Art recently was awarded a $2,000 Critical Exchange Grant from Imagining America, a national nonprofit organization that encourages the incorporation of civic responsibility into art education at the university level.
Awarded to only four other universities nationwide, the grant will go toward fostering a mentorship between UD and the Herron School of Art and Design at Indiana University-Purdue University Indianapolis (IUPUI). In the process, it will support the redesign of UD's Visual Communications Program.
Applied for by Colette Gaiter, UD associate professor of art, the grant will allow Gaiter and colleague Ashley Pigford, assistant professor of art, to visit the Herron School of Art and Design in April, when they will observe classes, talk with professors and students, and learn about Herron's program, which has gained respect and notice for effectively pairing coursework with projects that have a social and environmental impact.
"Making education more relevant to the real world is a goal I've been interested in pursuing for a long time," Gaiter said. She added that she learned of Herron's program at an Imagining America conference she attended with Janet Hethorn, UD associate professor of fashion and apparel studies, last year in Columbus, Ohio.
"Herron has a visual communications program that broadens the definition of what a visual communicator is," Gaiter said. "They see people in visual communications as essential to business and as essential to the workings of the world, and so I proposed in my grant that Ashley, who coordinates the Visual Communications Program, and I visit Herron for a couple of days to observe classes and get a better idea of what we want to do with our curriculum at UD."
Gaiter said that other visual communication faculty, in particular the two full-time faculty members William Deering, assistant professor of art, and Robyn Phillips, associate professor of art, also are working to boost the presence of more socially and environmentally focused art projects at UD.
"Last semester, our visual communication students participated in a competition sponsored by the Philadelphia branch of the American Institute of Graphic Arts [AIGA] called 'Wear Your Voice,'" Gaiter said. "UD visual communications students--one of whom earned honorable mention--designed T-shirts for local causes that didn't have a voice."
Other recent social-awareness efforts, Gaiter added, have included a field trip to New York City, where students attended a lecture on environmental responsibility given by National Resources Defense Council representatives. While there, students learned about the important role the printing industry plays in deforestation and pollution and, conversely, on the important role the industry plays in marketing and bringing about change. In the spring, a course project for web design students will involve creating a web site for Green Delaware, a local nonprofit organization dedicated to environmental activism in Delaware.
"Visual communications creates the reality that people perceive, and I've always told students that when you are doing that, you are responsible for creating the world that people experience," Gaiter said. "As a visual communicator, you have to take responsibility for the images that you create and put out there, and, as instructors, we want to make sure that our students are aware that being ethically responsible for their work is an integral part of everything they do."
Article by Becca Hutchinson
Photo by Kathy Atkinson
E-mail this article
Subscribe to UDaily
Subscribe to crime alert e-mail notification