University emerges as important center for small RNA research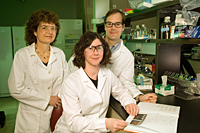 Pamela J. Green, Crawford H. Greenewalt Endowed Chair in Plant Molecular Biology, Janine Sherrier, associate professor of plant and soil sciences, and Blake C. Meyers, associate professor of plant and soil sciences
1:11 p.m., Dec. 6, 2006--The University of Delaware is emerging as an important center for research on small ribonucleic acids (RNAs), which play a vital role in regulating genes in both plants and animals.
In recent months, UD scientists have received four major grants totaling about $4 million for research on small RNAs, and published a paper in the October issue of the journal Genome Research.
The research effort into small RNAs has been led by Pamela J. Green, Crawford H. Greenewalt Endowed Chair in Plant Molecular Biology, and Blake C. Meyers, associate professor of plant and soil sciences, both members of the UD faculty with offices and research laboratories at the nearby Delaware Biotechnology Institute.
RNA is the only biological polymer that can both act as a catalyst, in the manner of proteins, and store key information, like deoxyribonucleic acid (DNA). As such, it plays a key role in the life of cells. Small RNAs are characterized by a length of approximately 21 to 24 nucleotides.
Green has said that small RNAs are "one of most important discoveries in biotechnology in the last 10 years" because they play an important role in regulating genes in both plants and animals. Deficiencies in small RNA production can have a profound effect on development, and small RNAs have been associated with other important biological processes, such as responses to stress.
Determining the sequence of the small RNAs of an organism is critical for understanding their overall impact and individual biological roles, Meyers said, and the researchers have pioneered studies of small RNA by using novel technologies to generate the data combined with computational approaches to analyze it. They are working with several competing technologies to characterize the diversity and expression patterns of transcripts. These include Solexa Inc.'s transcriptional profiling technology called Massively Parallel Signature Sequencing, or MPSS, as well as 454 Life Science's Inc.'s pyrosequencing-based method.
The National Science Foundation (NSF) recently announced a grant of $1.1 million to the two researchers for a project to develop extensive sequence resources of small RNAs and target messenger RNAs (mRNAs) from representative species across the plant kingdom. The information gained will enable functional and evolutionary studies of microRNAs (miRNA) and short-interfering RNAs (siRNAs).
While most studies have been limited to the plant Arabidopsis, a weed from the mustard family of importance because its rapid growth cycle and small size make it an ideal experimental model for plant biology research, the little that is known about small RNA diversity and evolution suggests that miRNAs are a well-conserved gene regulatory system dating back to lower plants and potentially to green algae. The new project will lead to the development of a comparative sequence dataset of plant small RNAs and target RNAs, based on the hypothesis that most if not all plants utilize important small RNA signaling networks, Meyers said.
Different plant families are likely to have both common and lineage-specific miRNAs or other small RNAs with important biological roles, he said, adding that comparative genomics approaches can be applied to distinguish potential miRNAs from siRNAs and to match the miRNAs to the target sequences.
This project will develop an unparalleled resource of millions of plant small RNAs for comparative analyses, derived from 32 different plant species, Meyers said.
Earlier this year, Green and Meyers received a $500,000 NSF award to build on work the researchers reported in a September 2005 issue of the journal Science. Through deep sequencing of Arabidopsis, the team discovered 10 times more small RNAs than had previously been identified. It was pioneering work in the use of MPSS to sequence small RNAs at a level not possible before the development of new technologies.
Through the funding, the researchers plan to look closely at miRNAs and siRNAs and their role in environmental stress, such as drought and cold. Green said that because many Arabidopsis miRNAs are conserved in rice and other plants, this work should lead to the discovery of new functions of general significance.
These new small RNA sequencing and analysis techniques developed at the University are being put to use in other plant genomes. Janine Sherrier, associate professor of plant and soil sciences housed at DBI, has received $500,000 through the U.S. Department of Agriculture's national research initiative plant genome program to sequence small RNAs in Medicago. This project is in collaboration with Green and Meyers, and builds off of the three investigators combined skills in Medicago biology, small RNAs and genomic analyses.
Medicago is closely related to alfalfa and thus a good model for legumes such as soybeans, an important crop in Delaware, and common beans, such as kidney beans and black beans.
Meyers said these plants are interesting and of great agronomic importance because they can "fix" their own nitrogen. Unlike many other plants that require the addition of nitrogen fertilizer, which is becoming more expensive and for which there are environmental issues, legumes have a symbiotic relationship with microorganisms that allow them to fix their own nitrogen.
The research will look at small RNAs in the roots of these plants and under conditions in which the interactions are taking place with these microorganisms. The roles of small RNAs in roots and particularly in root "nodules" in which the nitrogen-fixing chemistry occurs are poorly characterized.
Meyers and Li Liao, UD assistant professor of computer and information sciences, are co-principal investigators on a new $1.9 million DNA sequencing project being funded by NSF and led by W. Richard McCombie of Cold Spring Harbor (N.Y.) Laboratory on Long Island.
The project is aimed at assessing several new technologies available to sequence genomic DNA, Meyers said, adding these are the same technologies that he and Green have been using for RNA research. Noting that DNA sequencing technology has entered a phase of rapid change after nearly a decade of slower, more incremental advances, the team will test new methods of genomic sequencing on four rice species.
Also, they will develop new strategies and software tools to most effectively use these new sequencers in combination with existing, lower-throughput sequencing technologies. As a result of the project, Meyers said the investigators hope to determine the most efficient method to sequence additional important plant genomes in the future using one or a combination of these sequencing technologies.
In addition to the new funding, several papers have been published based on the UD-DBI small RNA research, most recently in the October issue of the journal Genome Research. Green and Meyers are co-authors of the paper that discussed new findings about Arabidopsis miRNAs and other small RNAs that were characterized to considerable depth. Using a mutant plant that lacks the predominant type of small RNAs (siRNAs) and is effectively enriched for other small RNAs like miRNAs, the researchers were able to identify 13 new microRNAs and determined that the minimal number of microRNAs in Arabidopsis is approximately 155.
Article by Neil Thomas
Photo by Kathy F. Atkinson
E-mail this article
Subscribe to UDaily
Subscribe to crime alert e-mail notification