IT-User Services staff take top SIGUCCS award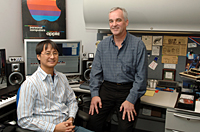 Lawrence Larraga (left), an information resource consultant in IT-User Services, and Ronald Nichols, manager of IT-User Services, share top honors for their video podcast, "Consulting on Demand."
4:55 p.m., Dec. 5, 2006--Eleven employees from UD's IT-User Services and one from the Morris Library represented UD at the 34th annual Association for Computing Machinery Special Interest Group on University and College Computing Services (ACM-SIGUCCS) Conference, held Nov. 5-8 in Edmonton, Alberta, Canada.
Six of them, including Paul Hyde, Carol Jarom, Lawrence Larraga, Suzanne Nanis, Anita Schwartz and Steven Timmins--all information resource consultants in IT-User Services--as well as Ronald Nichols, manager of IT-User Services, also made presentations.
And two of them, Nichols and Larraga, made a splash by taking top honors for their podcast, "Consulting on Demand," clinching the title of overall winner in the promotional video/audio category.
Nichols said that the success of the podcast was due to teamwork from IT-User Services members Ann Amsler, Dan Coleman, Lisa Elias, Richard Gordon and Suzanne Nanis--all information resource consultants--and from Debbie Jeffers, a CITA I. He added that the inspiration for the project ironically grew from individual frustrations with outdated troubleshooting techniques.
"IT-User Services has a help desk that students can call if they have questions about their computers," Nichols said. "If they can't get their e-mail, for instance, they can call the help desk and someone can walk them through the problem. What we found with many of the problems, however, was that no matter what we did, there were some topics that users couldn't comprehend over the phone."
After repeated efforts by IT-User Services staff--including the creation of detailed web pages--failed to solve this communication gap, Nichols said, web-based videos, or podcasts, offered a hopeful solution. "We thought what we'd do is make some videos that would complement those web pages," he said.
That was last November, and within a year the workaround had proved so successful that this summer a two-part web video instructing students on the finer points of connecting computers in residence halls got close to 1,000 hits during the move-in crunch. Encouraged, IT-User Services launched a larger web video project in October to promote National Computer Safety Month. Each week, Nichols and IT-User Services staff created web videos on different cyber safety topics that were then submitted to SIGUCCS.
At the conference, the "Consulting on Demand" podcast dealt with such topics as coping with spam, encryption and setting up a web proxy. "[Our presentation] really brought [the web video] project full circle," Nichols said, explaining that last November he'd viewed web videos created by Ohio University staff that had given him the impetus to go further. "We worked with an idea and showed that we could do it better than most universities."
Larraga, who created the soundtrack for the winning podcast, including all the dialogue editing, music composition and keyboard playing, said that the recognition reinforces the value UD invests in innovation. "The entire team had a creative hand in this," he said.
According to Leila Lyons, director of IT-User Services and chairperson of the ACM-SIGUCCS since 2004, the recognition that UD received also is significant because of the scale and caliber of the ACM-SIGUCCS conference.
"SIGUCCS formed about 60 years ago and is a very prestigious organization," Lyons said. "More than 400 people from the United States, Canada, Japan, Finland and several other countries attend the annual conferences, and more than 200 presentations are given.
"UD has had a long association with ACM-SIGUCCS and [staff from] IT-User Services have been attending its conferences and volunteering for the organization since the '80s," she said. Lyons herself has been attending ACM-SIGUCCS conferences for more than 20 years and has been present to witness UD awards in the past.
SIGUCCS is an association of professionals who support and manage the diverse aspects of information technology services at higher education institutions. The association strives to enhance delivery of these services through professional sharing and aims to provide a forum for professional development through conferences, publications and other services. All services provided by SIGUCCS are done by volunteers.
To view podcasts created by IT-User Services, go to [www.udel.edu/cod].
For a complete list of ACM-SIGUCCS 2006 Conference award recipients, go to [www.siguccs.org].
Article by Becca Hutchinson
Photo by Kathy Atkinson
E-mail this article
Subscribe to UDaily
Subscribe to crime alert e-mail notification