Symposium showcases undergrad science research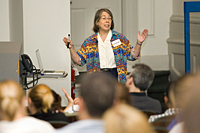 Sarah Elgin, Howard Hughes Medical Institute Professor of Genomics in Education at Washington University, opened the symposium with a lecture on "Exploring the Drosophila Genome: Genetics and Genomics to Examine Gene Silencing."
5:17 p.m., Aug. 15, 2006--A total of 135 undergraduate students from UD, Delaware State University, Delaware Technical and Community College and Wesley College gathered on the ground floor of McKinly Laboratory Wednesday afternoon, Aug. 9, to present and share scientific research at UD's sixth annual Summer Undergraduate Research Symposium.
During the symposium, which opened with a plenary lecture on "Exploring the Drosophila Genome: Genetics and Genomics to Examine Gene Silencing," by Sarah Elgin, Howard Hughes Medical Institute Professor of Genomics in Education at Washington University, in St. Louis, students gave talks and presented posters summarizing their research on topics ranging from "Optimization of Human Neurokinase 2 Receptor Expression in Escherichia Coli," to "Synthesis of a Novel Redox-Active Scorpionate Ligand."
The symposium was part of three-day campuswide event spotlighting work completed over the summer by UD students in the College of Arts and Sciences and one of several end-of-summer undergraduate presentations sponsored by organizations that provide summer research scholarships in life sciences for undergraduate students.
Javier Velasquez, a senior chemical engineering major from Woodbury, N.J., said that his research this summer with G-protein coupled receptors, while bringing disappointing results, nonetheless enforced the importance of thorough lab work and perseverance.
"I feel that the biggest object of this summer's project has been to see if graduate school is really worth it," he said, "and it is. I hit a lot of dead-ends, but I learned a lot and hope to go into the biomedical field."
Blair Thornley, a senior biochemistry major from Hockessin, said that her summer research at UD on phosphorylation-dependent protein design also confirmed her plans to pursue additional training at pharmacy school upon graduation from UD.
"Once you start getting results from your research, it inspires you to probe even further and work even harder," she said.
After spending approximately 40-50 hours a week in the laboratory for the past two summers, Thornley said she also got a hint of the rigors of graduate school, and feels well-prepared.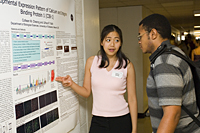 Senior Colleen Cheong discusses the research she has done on the "Developmental Expression Pattern of Calcium and Integrin Binding Protein 1 (CIB-1)" under the supervision of Ulhas Naik, associate professor of chemical engineering and biological sciences.

Jennifer Schnitker, a senior chemistry major from Campbell Hall, N.Y., said she likewise felt that the demands of the program prepared her for graduate school.

"I chose my research topic because it incorporated aspects of both inorganic and organic chemistry," she said, explaining her work with scorpionates, a class of versatile chemical compounds. "But one of the most interesting things I learned through my research is that I kind of enjoyed hitting setbacks. I liked the challenge of trouble-shooting and figuring out what caused the bumps in the road, and I also enjoyed learning how to move beyond them."

The symposium and correlating summer enrichment program was conceived by David Usher, associate professor of biological sciences and assistant director of UD's Howard Hughes Medical Institute (HHMI) Program, and is directed by Hal White, professor of chemistry and biochemistry and director of the HHMI Program at UD. Its purpose is to enhance scholarship-funded laboratory research conducted during the summer by undergraduate students in biological sciences, chemistry and biochemistry, medical technology, physical therapy, animal and plant sciences, and chemical engineering. The enrichment program, which includes Wednesday afternoon seminars, offers participating students insights from invited guest speakers, who share their scientific research expertise.

"I was very impressed with the number of participants we had this year," White said. "The turnout is 40 percent larger than it was last summer, and each year the program grows by leaps and bounds. I'm also pleased that we are having more participation from students from Delaware State University, Wesley College and Del Tech.

"The program started as a Howard Hughes Medical Institute Undergraduate program, and this year we have 30 students who are HHMI-funded. The rest of the participants are sponsored through different programs," White said.

Through the Undergraduate Research Program, which draws about 600 participants each year, apprenticeships with faculty mentors give talented, motivated undergraduates a chance to see and take part in what is happening on the front lines of discovery. Every college, department and research center provides opportunities for interested students to do hands-on research.

The symposium was sponsored by the Howard Hughes Medical Institute's Undergraduate Science Education Program, UD's Chapter of Sigma Xi and the College of Arts and Sciences.

Participating students were supported by the Howard Hughes Medical Institute Undergraduate Science Education Program, the UD Undergraduate Research Program, the College of Marine and Earth Studies Intern Program, the College of Agriculture and Natural Resources, the National Institutes of Health Delaware IDeA Network of Biomedical Research Excellence (NIH INBRE) Program, the National Institutes of Health Bridges Program, the Beckman Scholars Program, the Ronald McNair Scholars Program, Charles Peter White Fellowships, the National Science Foundation Experimental Program to Stimulate Competitive Research (NSF EPSCoR), and a newly launched prostate cancer research project funded by the United States Department of Defense.

For more information on the Summer Undergraduate Research Symposium or its sponsors, go to [www.udel.edu/chem/white/HHMI2/Symp06/S06symposium.html].

Article by Becca Hutchinson
Photos by Kevin Quinlan
E-mail this article
Subscribe to UDaily
Subscribe to crime alert e-mail notification