UD students, alums help rebuild New Orleans homes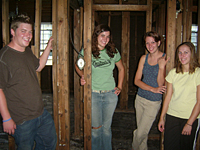 UD volunteers (from left) Brent Fischer, Erin Groth, Amie Brandt and Debbie Brandetsas in a home they helped to gut and rebuild in New Orleans this summer.
1:26 p.m., Aug. 18, 2006--UD students Erin Groth, Amie Brandt and Brent Fischer and UD alums Debbie Brandetsas (AS '06) and Laurie Cannon (CHEP '04) have teamed up with residents of the badly hit Holly Grove neighborhood in New Orleans this summer to help rebuild homes damaged by Hurricane Katrina.
Employed by AmeriCorps and assigned to the Holly Grove neighborhood by the Trinity Christian Community, the five have so far managed to save residents of the area more than a million dollars on rebuilding costs since they began the work on June 8, and they hope to have about a block's worth of houses completed before they depart for classes and other assignments later this month.
"Trinity Christian Community really cares for this specific neighborhood," Groth, a senior from Newark majoring in wildlife conservation, said. "There are a lot of elderly residents in Holly Grove, as well as many uninsured and underinsured residents who won't be reimbursed for the damage done to their homes by Katrina, so for each home we work on, we figure we're saving the homeowners about $5,000."
Work, Groth said, involves everything from removing the entire contents of a house, including ruined furniture and appliances, to tearing out walls to scrubbing down the remaining studs with a mold remediation product.
Sometimes, she said, the contents of a home can get interesting, as when the crew found two containers of liquid mercury and had to call the Environmental Protection Agency. But most of the time, she said, the finds are only sobering.
"There are still refrigerators full of food that haven't been opened since last Aug. 29," Groth said, "and sometimes you'll come across photo albums where all the photos are ruined except maybe a few from a wedding. That's because you're seeing everything that was left behind at the time Katrina hit."
Despite the devastation still present, however, Groth said that there are subtle signs of life returning to the neighborhood, and team members who came down with the Intervarsity Christian Fellowship (ICF) over spring break last semester say they definitely can see progress.
"I came down with ICF in early April, and I really wanted to come back this summer," Fischer, a junior from Newark majoring in mechanical engineering, said. "You're not getting paid much, and the working conditions aren't great, but it's the best job to have if you want to see actual progress and the effect that has on people living here."
Brandetsas, who also helped with the ICF effort this spring before she graduated, said that the need to see progress in the area also compelled her to return on a more permanent scale this summer.
"Like Brent and Erin, I volunteered during spring break and wanted to be down here for longer because I felt that it's an area that has suffered a lot of destruction and is a city that's also coming back--slowly but surely," Brandetsas said. "I really wanted to be a part of that. I actually have decided now to stay on for a year or more to continue the work. It's the little signs of revival and recovery in the community that keep you going."
Brandt, a senior economics major from Wilmington, who will finish her UD course work during Winter Session, said that she also plans to stay on. "I came down during last year's Winter Session and just seeing how much needed to be done felt I needed to come back," she said. Now staying through December, she has lined up another assignment with AmeriCorps to help in Baton Rouge after her placement in Holly Grove ends later in August.
"I feel I could almost rebuild a house by myself right now," she said. "I never thought I'd learn how to plumb or take walls down, but you just do what needs to be done."
Cannon, who graduated two years ago with a degree in family and community services, said that what began as a short-term desire to help has become a long-term commitment. "I originally came down here to work with kids after I graduated," she said, "but, after the hurricane, I decided to come back because I could see there was so much help needed and so many people who weren't being helped. Now I plan to stay at least two more years."
Although progress, even in some of the hardest-hit neighborhoods like Holly Grove, is measurable, Groth said the rebuilding effort will take years and years. "When we were here in April, less than 20 percent of the neighborhood was back," she said. "Now, since school has let out, residency is up to about 33 percent. About half the businesses are open and a Burger King just opened on the main road. But, it's important to remember that many places are closed and never will reopen, and that there is still a lot of work that needs to be done. Just because it's not in the news up north, doesn't mean that things are fixed down here."
To this end, a trip through ICF, which is open to all, is being organized for spring break 2007. Details will become firm as fall semester gets underway.
Article by Becca Hutchinson
Photo courtesy of Erin Groth
E-mail this article
Subscribe to UDaily
Subscribe to crime alert e-mail notification