Chemical engineering prof receives NSF Career Award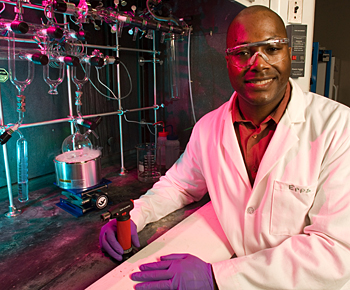 5:21 p.m., April 13, 2007--Thomas H. Epps III, assistant professor of chemical engineering at the University of Delaware, is the recipient of a prestigious Faculty Early Career Development Award from the National Science Foundation (NSF).
The award, which is highly competitive, is bestowed on those scientists deemed most likely to become the academic leaders of the 21st century. Fewer than 20 percent of the proposals submitted to the annual competition are funded, according to NSF.
The five-year, $460,000 grant will support Epps' research and education program on block copolymers. These self-assembling, nanoscale materials are formed by combining two or more distinct polymer chains. They are advancing the development of the next-generation of high-performance materials, from more efficient fuel cells to chemical-resistant, yet breathable clothing.
"Thomas Epps is a highly skilled scientist with great energy, enthusiasm and dedication to research and teaching, which are hallmarks of the career award," Eric Kaler, the Elizabeth Inez Kelley Professor of Chemical Engineering and dean of UD's College of Engineering, said. "We congratulate him on this well-deserved honor."
The materials that Epps is developing contain structures that are a thousand times smaller than the diameter of a human hair and represent the "best of both worlds" because they combine the properties of two or more different polymers.
"An example is to take poly(isoprene), which is found in a rubber band, and chemically bind it to poly(styrene), which is found in a Styrofoam cup," Epps explained. "By combining these two polymers, you would get the properties of both--resulting in an elastic, rubbery material with structural and thermal stability, such as a passenger car tire."
Epps says the beauty of block copolymers is that they self-assemble, which makes them a cheaper alternative to the laser-generated templates currently used in semiconductor fabrication, and that also enhances their potential for membrane and separation applications.
"There are plenty of applications for these nano-networks, such as conducting membranes for methanol and hydrogen fuel cells, thin polymer barriers on military clothing that are resistant to biological and chemical agents, or new separation membranes to remediate harmful materials from car exhaust," Epps noted.
Epps and his students are working to understand the nano-sized features of the block copolymers by controlling their structure and orientation--a process that requires a knowledge of chemistry, chemical engineering, polymer science and materials science.
In Epps' lab, graduate students Mary Vukmir and Maeva Tureau, along with undergraduate Paul Brigandi, are examining the block copolymer materials for mechanical strength, solvent resistance and conductivity using such high-tech tools as transmission electron microscopy and X-ray scattering, which allow the scientists to visualize nanoscale structures. Graduate student Julie Lawson and undergraduate Tom Scherr are discovering new methods of creating nanotemplates for applications such as hard-disk-drive arrays, using atomic force microscopy and other techniques.
"We do everything from synthesizing the copolymer to characterizing its structure, studying its nanoscale and microscale assembly, and benchmarking it for applications," Epps said.
Growing up near Richmond, Va., Epps said he was always interested in math and science. Although his father is a retired chemistry professor and his mother is an accounting professor, they never pushed him to pursue their respective fields. What really turned on his interest in scientific research, particularly in polymers, was his participation in the Virginia Governor's School Program when he was a junior in high school.
"Our project was to test polymer films as solar panel covers for space environments," Epps said. "What was so exciting about it was that we didn't just make the films for the panels," he noted. "We got to mount the films on the remote manipulator arm of the space shuttle and recover them for analysis following a space flight."

A component of Epps' NSF award is devoted to increasing the participation of under-represented groups in science and engineering.
Epps is partnering with professors Andrew Goudy and Preston Hayward at Delaware State University to incorporate polymer science and engineering into their courses. He also will welcome students from Delaware State to his UD lab this summer for hands-on research.
As an affiliated faculty member, Epps also is working in partnership with the Delaware Biotechnology Institute to involve qualified UD minority students in the American Chemical Society's Scholars Program. Epps is an alumnus of the program, having received its scholarship award in 1995.
In other outreach efforts, Epps, Sharon Anderson, undergraduate services coordinator, and others from UD's chemical engineering department are working with Newark High School to expose students to chemical engineering and various career paths in the field.
"I want to be able to walk into a classroom and show that anyone who wants to can become a chemical engineer and be successful," Epps said.
Epps said he's glad he chose to join the UD faculty. He will celebrate his first anniversary at UD in June.
"The support, collegiality and reputation of the faculty were extremely important to my decision to come here, as well as the quality of the students and the University's commitment to families," he said, noting that his wife, who does energy trading for a major bank, already has given two lectures related to "green" engineering at UD.
"I chose academia over industry because here you have the opportunity to influence young people, and you also have the ability to tackle the problems that you want to pursue," he noted.
Epps received his bachelor's and master's degrees in chemical engineering from the Massachusetts Institute of Technology and his doctorate in chemical engineering from the University of Minnesota.
Before joining UD, he completed a National Research Council Postdoctoral Fellowship at the National Institute for Standards and Technology.
Article by Tracey Bryant
Photo by Kathy F. Atkinson